Abbot Paslew, General Charles Worsley and the Altham Parish Font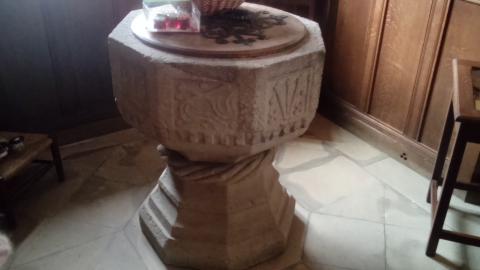 This is the baptismal font at Altham's parish church. Like most traditional fonts, it was positioned by the church's door to symbolise the infant's entry into the faith. It was presented by Abbot Paslew to the church in or just after 1512 to replace the older, Norman font which is now a glorified flower vase. He was probably born at Sabden and was hanged at Lancaster in 1537 for his reluctant role in the Pilgrimage of Grace; it's a wonder the Catholic Church never canonised him. I haven't much time for abbots, but this is one I think I would have liked.
The other great man who had dealings with this font was Major General Charles Worsley, arch-puritan and Cromwellian leader in Lancashire, Cheshire and Staffordshire. When the building housed Thomas Jollie's Independent Church, Worsley had his son baptised here in July 1653.
Two very different men, worshipping in two very different religious settings, yet both stood around the same object in the same building.
And he changeth the times and the seasons. Daniel 2:21