The Church of God which is at Corinth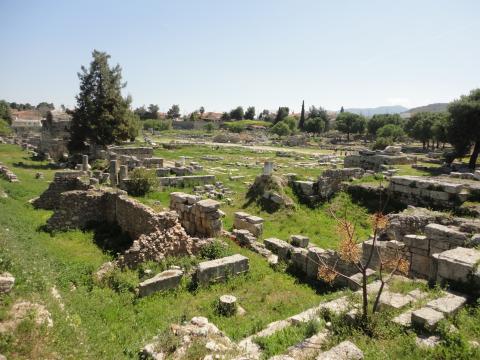 Acts 18: After these things Paul departed from Athens and went to Corinth. 2 And he found a certain Jew named Aquila, born in Pontus, who had recently come from Italy with his wife Priscilla (because Claudius had commanded all the Jews to depart from Rome); and he came to them. 3 So, because he was of the same trade, he stayed with them and worked; for by occupation they were tentmakers. 4 And he reasoned in the synagogue every Sabbath, and persuaded both Jews and Greeks.
I took the picture above in 2011. It is of Corinth's city centre. There's not much left, though I'm certain that many of these stones would have been standing when the apostle Paul first met with Aquila and Priscilla. Some of the little rooms you can see were shops; could it be that in one of these, a pair of Jewish tentmakers established a business and were then joined by another?
To the church of God which is at Corinth, to those who are sanctified in Christ Jesus, called to be saints, with all who in every place call on the name of Jesus Christ our Lord, both theirs and ours.