Easter Gimmick at Holy Trinity Brompton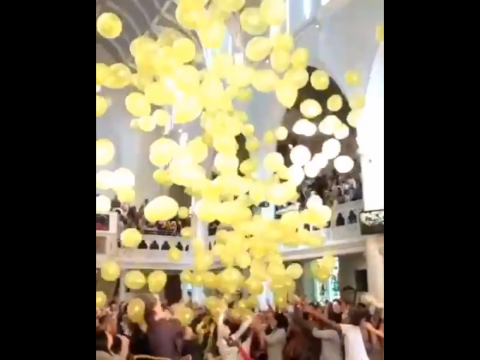 Nicky Gumbel, vicar at Holy Trinity, Brompton, posted an Easter video of his church on Facebook today. To celebrate Easter, they had arranged for a large number of inflated yellow balloons to be released from the ceiling onto the worshippers below. They loved it, and can be seen hitting them around, passing them to each other and playing with them. A great idea for a Friday youth event, but for a Sunday morning? Bear in mind, this appears to take place in the middle of the worship time. 
The comments section, barring a couple, are full of praise for the gesture. Frankly, it's a crass, superficial way to celebrate Christ's resurrection. It confuses entertainment for worship, gimmicks for genuine joy. 
This church is packed out each Sunday. Who am I, a pastor that can barely summon a couple of dozen to worship on a Sunday, to criticise so 'successful' a church? Perhaps Charles Spurgeon should have the last word:
"A time will come when instead of shepherds feeding the sheep, the church will have clowns entertaining the goats".