Ebenezer Congregational Church, Uppermill
I recently visited the Congregational Church at Uppermill, near Oldham. I am most unfamiliar with that part of the world, so it was a pleasure to become better acquainted. Uppermill, contrary to my expectations and to what its name suggests, is not some industrialised corner of Oldham but a rather quaint and upmarket village/small town. Like Martin Top, it was once in Yorkshire, before boundary changes annexed it to the Red Rose. The principal town of the Saddleworth area, it boasts designer shops and cosy cafés.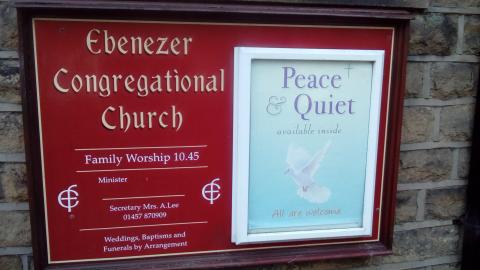 The congregational church there had originally constructed a large building on the High Street which was later sold to the Catholics. They then relocated to the smaller, more manageable current site just a stone's throw away. It's an unusual building; the front resembles a tower through which one passes into the comfortable meeting room downstairs, and an even larger function room upstairs.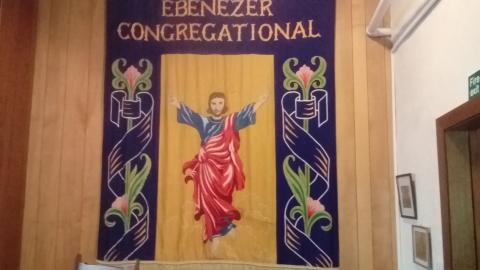 At the front of the church is large banner depicting the risen Christ, strangely resembling a contestant from Stars in their Eyes, just emerging from the curtains. There's also some pieces of the original church's stained glass showing a nativity scene. 
More importantly, the church reaches out to its community, with particularly successful film nights, attended by over fifty people, many of whom are not church-goers. Indeed, I've just sent them our copy of Luther that they might show that too.
I pray God's blessing upon this church and they that lead it.