Goodshaw Chapel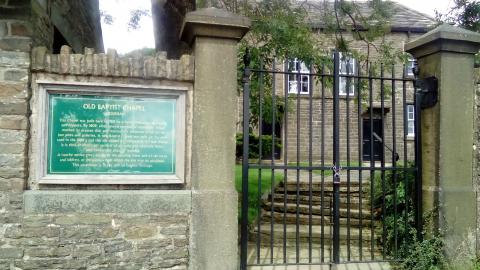 When English Heritage tries to persuade me to join it, I point out the very few properties it has in the region in which I live. It really is quite noticeable on their maps. One they do have, however, is Goodshaw Chapel in Rossendale, a Baptist church building which is now essentially a museum. It opens annually, however, for worship on its anniversary.
It's not easy to gain admission. The good folk who have the keys have their own lives to live, and the two occasions I have attempted to go have been thwarted. Nevertheless, I hope to pay the inside a visit some point soon.
Is it sad that the church has closed? No. There is still a thriving Baptist congregation at nearby Lumb (http://www.lumbbaptist.org.uk). Goodshaw Chapel served God's purposes for the season to which it was appointed.
Why does the Lord allow some churches to close while opening others? Why do some countries see great revival and others grow cold? Why Does God draw some to Himself while others remain unmoved?
As the Lord said in John 3:8: "The wind blows where it wishes, and you hear its sound, but you do not know where it comes from or where it goes. So it is with everyone who is born of the Spirit."