Grindleton and Grindletonians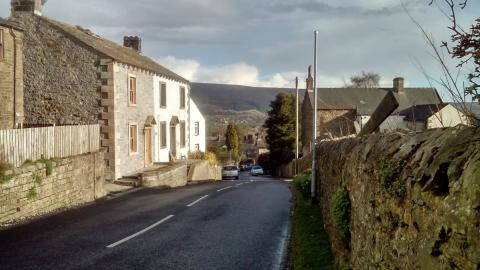 This week's Bible Study is on the gifts of the Holy Spirit. Most Christians thought they had died out till the emergence of Pentecostalism around 1900, and the 1960s and 70s 'charismatic renewal' in which they seemed to reappear in the mainstream denominations. I know the people at Martin Top have different views on the gifts, so Thursday night should prove interesting. 
Last Sunday I had a little time to kill and stopped at Grindleton, a village between Chatburn and Sawley, a ten minute drive from Martin Top. It's a wealthy place, presumably populated by well paid commuters or their retired friends. I counted two Porsches and innumerable Range Rovers- the place would interest those into luxury cars as much as gifts of the Spirit. Grindleton in 1610 hosted a Puritan sect that we today would describe as being charismatic. It's hard to tell exactly what they believed, as our records were written by their enemies who sought to suppress them, and may have misrepresented them during the legal proceedings. The village's curate, Roger Brearley was prosecuted by the Archbishop of York, and disappeared off to Kildwick to live a quieter life. 
They probably had theology in common with the Familists, who believe the Spirit-filled Christian couldn't sin, and the Quakers (who developed forty years later) who seemed to prefer inner light over scriptural light.  
Of course most modern charismatics wouldn't necessarily endorse these two points, though some come close to it. The Grindletonians have all died out (those puritan charismatics, rather than the well-heeled folk who currently populate their village), but the Charismatic Movement has never been stronger. There are Catholic, Baptist, Methodist and Anglican speakers of tongues, givers of prophecy and alleged healers of the sick. And yet we live in a time in which the Church has never been so feeble. 
If the gifts of the Spirit have never been so popular, they certainly don't seem to be making us any more effective. I pray that there is a move of the Spirit in our time, and may it awaken modern Grindletonians and their like; there's more to life than beautiful homes and expensive cars.