Long May They Echo To Thy Praise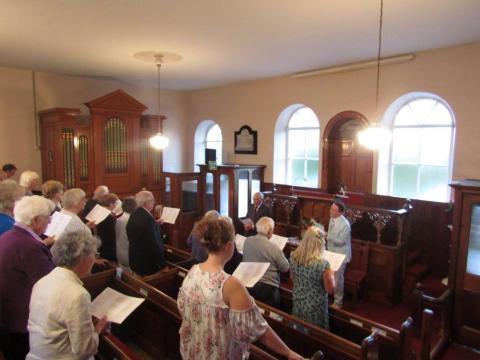 We had a special Songs of Praise service last night, marking our organ's 150th anniversary and our chapel's 201st. We were joined by a goodly number of folk from as far away as Crown Lane at Preston, Euxton, Emmetts at Wyresdale and Addingham and Ilkley. Roy Porter and I chose the hymns, and Isaac Ascroft belted out the tunes. One hymn of note which I have previously neither known nor sung, is this little number, by Phillip Doddridge:
And will the great eternal God
On earth establish His abode?
And will He, from His radiant throne,
Accept our temple for His own?
These walls we to Thy honour raise;
Long may they echo with Thy praise;
And Thou, descending, fill the place
With choicest tokens of Thy grace.
Here let the great Redeemer reign,
With all the graces of His train;
While power divine His Word attends,
To conquer foes, and cheer His friends.
And in that great decisive day,
When God the nations shall survey,
May it before the world appear
That crowds were born to glory here.
Its second verse is painted onto the woodwork overhanging our pulpit. It echoes Solomon's prayers when he dedicated the temple in the book of Kings. I can only imagine that it was sung at the chapel's opening service. Whether or not this is the case, God's praises have indeed been echoing long within these hallowed walls.