Lutterworth Parish Church: John Wycliffe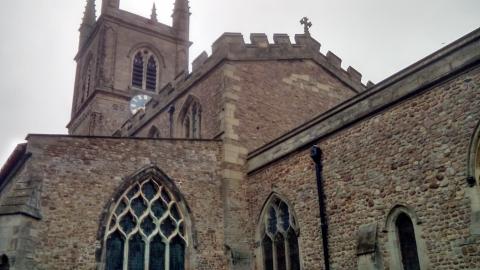 When I was planning my recent visit to Market Harborough, I espied Lutterworth not far away. Visiting this place has been my ambition for several years, so I set off an hour earlier at 5.30am to make time for my detour. It is here that the great John Wycliffe lived and preached. He was the man who first translated the Bible into English and rejected Roman teaching on the Mass and purgatory. He is called the 'morning star of the Reformation', proclaiming gospel truth a hundred years before Martin Luther was born. To think that this church is where gospel light shone in that sea of medieval darkness is wonderful indeed. The town is blessed to have had such a man as its rector.
Sadly, I was not around long enough to enter the church. This I shall do on a subsequent visit. I was disappointed at first that the parish church seemed to make no reference to the great man, but a second noticeboard, hidden in the trees, made the link. Nearby, the Methodist Church bears his name, and the Gideons International, the Bible distributors, are appropriately quartered in the town.
A large obelisk was erected to his memory in 1897, with a number of inscriptions, including:
The entrance of thy words giveth light Ps 119:130
After his death, the pope ordered that his bones be dug up, and thrown into the River Swift. This did not stop his message: he being dead yet speaketh. A century later, an Augustinian priest in Saxony would once more take up the call and carry on the work.
That one pastoring a church in Rimington, birth place of William de Rymington, Wycliffe's most vocal enemy, should pay court at Lutterworth, is delicious in its irony.