Manchester's Biggest Cathedral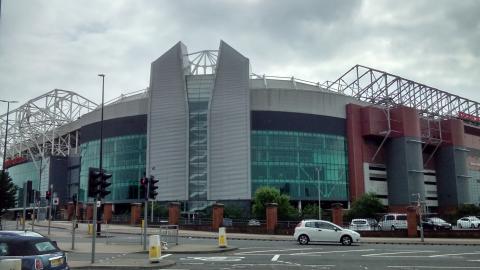 It's seemingly obvious that people aren't very religious anymore. Church attendance has fallen off the cliff and many places of worship are carpet warehouses.
I passed Old Trafford this week, the Theatre of Dreams, the home ground of Manchester United. It regularly attracts crowds of 60-70 thousand. They wear particular dress and sing peculiar songs and chants. They regularly hand over large amounts of money to the club, and woe betide the person who suggests another club is superior. Could it be that these people have transferred their innate spiritual tendencies away from organised religion to organised sport?
There is a deeply held desire in every human to worship. By this, I mean to honour someone or something greater than oneself. It comes from the Saxon Worth-Ship. I worship God because He is worthy, or deserving, of my praise and honour. Man's darkened heart rebels against its Creator, worshipping substitutes and alternatives. The Mancunian football crowd is therefore doing the very thing it was created for, but misdirecting it. 
There's many a Christian that follows football without worshipping the team. But I stand by my earlier observation. Old Trafford is one of the most popular Cathedrals mankind has ever built.