Mount Zion Church, Cliviger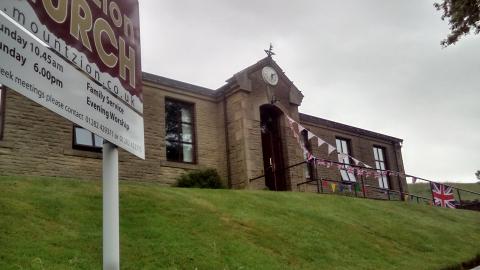 This evening I spoke at Mount Zion Church, in Cliviger. Cliviger is a rural ward of Burnley through which the Todmorden road runs. It's a truly beautiful place, especially Cliviger Gorge. The Church is on a hill over looking the main road. Foolishly, I arrived late, believing it to be a 6.30 start. They too were marking Her Majesty's birthday, and asked me to preach accordingly. My text was from 1 Peter: fear God, honour the king.
 During my time, I explained that our Queen is a constitutional monarch; she reigns rather than rules. She may be Head of State, but the elected Prime Minister is Head of Government.
I pointed out that the Queen's reign is a picture of God's. Though republicans may object to her, she's still their queen whether they like it or not. God sits on the throne and rules the universe regardless of whether sinful humans acknowledge it.
She is a picture of election. She obtained her rank by providence, not a popular vote. Unlike a democratically elected politician, she need make no promises nor seek popularity. She is Queen because she was born into a royal family. Her father became king because his brother abdicated. Fate, or rather God's providence, appointed her monarch. Likewise, each Christian was chosen by God before the foundation of the world. This election is not based on our ability to make and keep promises, but purely on His unfathomable grace.
Her royalty is a picture of our new status in Christ. The Redeemed of Revelation 1 say they are made kings and priests unto God. Though we were born sinners, eating pig's swill and dressed in filthy rags, the grace of God through the blood of Christ washed us and dresses us in clean linen. By the spirit of adoption, we are become co-heirs with Christ, members of an eternal royal family. 
The good folk of Zion were as appreciative and warm-hearted as ever, and I wish God's blessing on them and their Queen.