New Ship: Barnoldswick Independent Methodist Church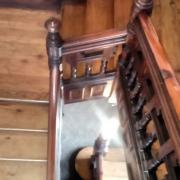 English Heritage has contributed towards the restoration of the Independent Methodist Church, aka The New Ship, in Barnoldswick. It's just how it would have been when it opened in the 1890s. It's typical of nonconformist chapels of its time- huge, grand and wonderfully designed for hearing the Bible preached. Sadly, most have shut or fallen down. As well as being open on Sundays for worship, it's open bank holidays for public inspection. I'd encourage anyone, like me, that's interested in old churches or Christian history, to pay a visit. It really feels like you're stepping back into a golden age of British Christianity.
I cannot help but wonder that conferences, Christian and secular, are missing a trick here. This is a 750 seater auditorium with well proportioned side rooms, kitchens and toilets in the centre of a town with a park and car park to its rear.