Oasis: Does the Church Exist for Social Transformation?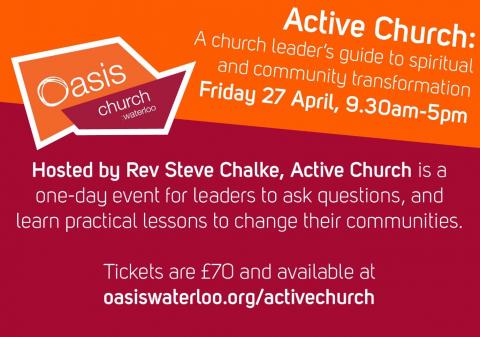 Steve Chalke's Oasis organisation is offering another course. For seventy pounds, I can find out all about community transformation. I looked up the course, and this is what the website tells me (emphasis mine):
Active Church is a one-day learning event for leaders to understand the Oasis model of church-led community transformation and learn practical lessons to apply to their own communities. We run Active Church periodically from our UK-based hubs but can also bring this course to you and deliver it to your church or community organisation.
A local church should be at the heart of its community but how can church leaders, typically overworked and under-resourced, begin to turn their church into the transforming force they believe God has called it to be? How can they build a rapport with community stakeholders? How can they balance all of this with the competing demands of a congregation?
Active Church is a one-day conference that allows church leaders to come together, hear from experts in the field of community development, debate thorny issues and obstacles and witness the difference that church-led community transformation can achieve.
The purpose of this course is to help participants develop a plan to take their church from being an effective congregation to becoming a missional force of social transformation.
Churches should be a part of the communities they serve, I get that. People have needs, and we should be there to help them. We who have received much must give much. But where in the spiel above is the good news that sins can be forgiven? I'm not sure the church is 'a transforming force'. The gospel is, and we proclaim it. I cannot help but think that the Oasis 'model' of being a church is to be a branch of the social services but without the benefit of government funding.  This type of Christianity has a form of godliness, but it denies the power thereof.