Unboxed!
Did you guess what it was? If you don't know what I'm talking about, go back in the archives to Tuesday the eleventh of July and read the item entitled "Unboxing". If you're still in the dark, try this test: put your wrist up to your nose, and sniff; or put your hand to another accessible pulse point, rub your skin, and then sniff your fingers. What do you detect? Nothing much? The pungent odour of perspiration? I wouldn't bother reading on, then!
Let me have a go. Ah! A warm breeze is blowing from the fields of Southern France, through lemon groves and across acres of wild verbena, sharp and stimulating and yet warm and comforting, at one and the same time. What can it be? You may well ask! The answer is Verveine Cédrat, by Jeanne en Provence. I picked it up a few months ago from a cut-price clothing store in the high street, for about a fiver. What a bargain!
Is that what was in the box? No, we're going up into an altogether more rarefied atmosphere. Let's get rid of the box and the pages of German newspaper that it was packed in. Here we are!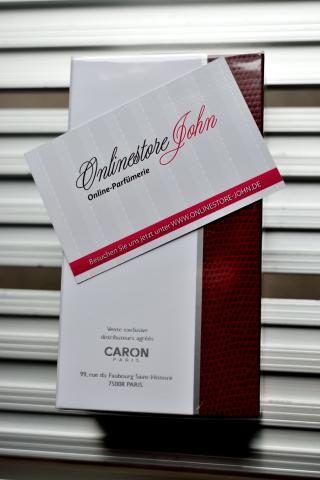 It's another fragrance, of course, but this time from Parfums Caron, established in 1904 by Ernest Daltroff. But which of their many fragrances is this? (If you're a man, "male fragrance" is the expression to use, apparently, rather than "perfume".) It isn't Pour Un Homme, or Le 3ème Homme, or L'Anarchiste, or even Yuzu; excellent though these may be, this one is on another level altogether. Here it is!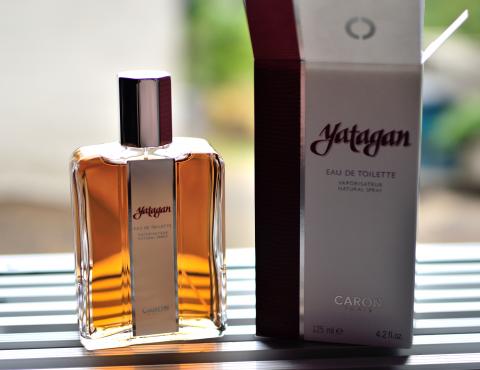 Yatagan. It was created in 1976 by perfumer Vincent Marcello, and named after a type of knife or short sabre used in Ottoman Turkey from the mid-sixteenth to the late nineteenth century. Its top notes are Lavender, Wormwood, Petitgrain and Artemisia, its heart notes are Geranium, Pine Needles, Vetiver and Patchouli, and its base notes are Leather, Castoreum, and Styrax.
So… what does it smell like, then? You can't imagine it from all of the above? Go over to basenotes.net, and read the reviews; but, a word of warning: don't buy it blind! It isn't for everyone.
But wait a minute: what is this doing on the Salem Chapel Blog? Such utter worldliness! Come on out of Vanity Fair and get back into the bible!
Certainly! The bible is filled with references to fragrance, and to many other associated matters. Sometimes the terminology used in a particular translation might make this difficult to appreciate: for example, the KJV's "tablets", in Isaiah 3.20 and elsewhere, nephesh bayith, is better rendered as "perfume boxes" or "perfume bottles".
Then, when we read the words "apothecary" and "ointment", we tend to think of an old-fashioned pharmacist and some sticky cream that smells of disinfectant; but the list of ingredients that go into the "holy ointment" of Exodus 30.25 suggests a highly perfumed oil as an end product, and "the art of the apothecary" is obviously the craft of the perfumer. When you see the word "spices", too, it's not necessarily in the context of cookery.
Notice the instructions concerning incense in that same chapter of Exodus: "Take sweet spices, stacte, and onycha, and galbanum, sweet spices with pure frankincense (of each shall there be an equal part), and make an incense blended as by the perfumer, seasoned with salt, pure and holy." Ex.30.34-35. ESV) If perfumes and perfumery are essentially profane, why are they accorded such importance in worship, as prescribed by God for His chosen people?
In Proverbs 27.9, we are told that "the sweetness of a friend comes from his earnest counsel." How does the writer illuminate this truth? By prefacing it with this parallel: "Oil and perfume make the heart glad". In Psalm 45.7-8, the Messianic king is described in this way: "Therefore God, your God, has anointed you with the oil of gladness beyond your companions; your robes are all fragrant with myrrh and aloes and cassia." This would lose all its force if the practice of perfuming both the person and items of apparel was unfamiliar or undesirable.
Of course, every good thing can be put to a bad use. In Proverbs 7, in a warning against adultery, the adulteress paints a picture for "a young man lacking sense" (v.7): "I have spread my couch with coverings, coloured linens from Egyptian linen; I have perfumed my bed with myrrh, aloes, and cinnamon." (v.16-17) In contrast, take a quick tour of "The Song Of Solomon"...
We could go on to look at accounts of various incidents in the life of our Lord which make mention of perfumes and spices, but that's way beyond the scope of a brief blog entry - but, the more we look, the more we learn. At Salem Chapel the emphasis is on reading, studying and preaching right through the books of the bible - but there is also much to be gained from searching out references to a particular topic in depth and at length. You could look at perfumes and spices as used in worship, in worldly activities, in medicine, in hospitality, in the home, in funeral customs, and so on. There are marvellous parallels drawn in the epistles: take a look at 2 Corinthians 2.15 and Ephesians 5.1-2, for example.
If history is His Story, then everywhere we look, rightly understood, we should see some new facet of the glory of our God. Notice what King Hezekiah keeps under lock and key, according to 2 Kings 20.13: "and he showed them all his treasure house, the silver, the gold, the spices, the precious oil, his armoury, all that was found in his storehouses." The trade in perfumes, spices and precious oils was big business in bible times, as it is today.
Had you ever noticed - I hadn't, until I began this blog - that this trade plays a part in God's plan of salvation? Remember Joseph, seemingly doomed to die at the hands of his brothers? Who was it that came along in God's good time, and gave Judah an idea? "Then they sat down to eat. And looking up they saw a caravan of Ishmaelites coming from Gilead, with their camels bearing gum, balm and myrrh, on their way to carry it down to Egypt." (Gen.37.25) And when the spice merchants go on their way, Joseph goes with them, to fulfil his destiny. That's quite something.
Back to Yatagan. It's a fine male fragrance in almost every respect, but: it hasn't got the longevity or the sillage of a true powerhouse like Quorum or Van Cleef & Arpels Pour Homme or Versace L'Homme. In other words, it doesn't last long enough and it doesn't travel far enough.
Consider this: we may not be masters of the art of perfumery, but every born-again believer in Jesus Christ can create something far more fragrant than Yatagan, which will be of eternal worth, and which will travel as far as up to heaven itself. You don't believe me? Well, here it is: "And when He had taken the scroll, the four living creatures and the twenty-four elders fell down before the Lamb, each holding a harp, and golden bowls full of incense, which are the prayers of the saints." (Rev.5.8, my italics.)
That's also quite something.