We Will Remember Them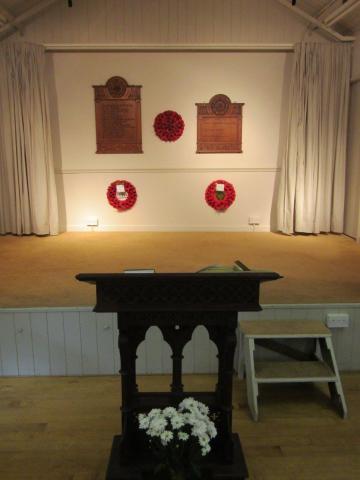 This morning, chapel folk and villagers joined at the Memorial Institute for our act of Remembrance. Wreaths were laid, and a two minute silence read. A former soldier in uniform read the names of Rimington men who fell in the world wars, and I spoke on a number of texts, including The Song of Bows from 2 Samuel chapter 1. In it, David mourns the loss of king Saul and his best friend, Jonathan, who were slain in battle:
17 Then David lamented with this lamentation over Saul and over Jonathan his son, 18 and he told them to teach the children of Judah the Song of the Bow; indeed it is written in the Book of Jasher:
19 "The beauty of Israel is slain on your high places!
How the mighty have fallen!
20 Tell it not in Gath,
Proclaim it not in the streets of Ashkelon—
Lest the daughters of the Philistines rejoice,
Lest the daughters of the uncircumcised triumph.
21 "O mountains of Gilboa,
Let there be no dew nor rain upon you,
Nor fields of offerings.
For the shield of the mighty is cast away there!
The shield of Saul, not anointed with oil.
22 From the blood of the slain,
From the fat of the mighty,
The bow of Jonathan did not turn back,
And the sword of Saul did not return empty.
23 "Saul and Jonathan were beloved and pleasant in their lives,
And in their death they were not divided;
They were swifter than eagles,
They were stronger than lions.
24 "O daughters of Israel, weep over Saul,
Who clothed you in scarlet, with luxury;
Who put ornaments of gold on your apparel.
25 "How the mighty have fallen in the midst of the battle!
Jonathan was slain in your high places.
26 I am distressed for you, my brother Jonathan;
You have been very pleasant to me;
Your love to me was wonderful,
Surpassing the love of women.
27 "How the mighty have fallen,
And the weapons of war perished!"
This heart-felt cry of grief resonates within all those who mourn loved ones.