100 Years Ago: The Final Phase of Jerusalem's Trampling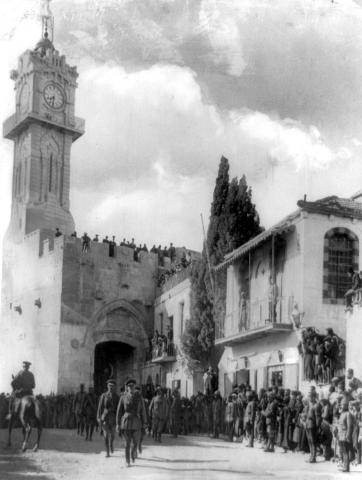 One hundred years ago this week, in December 1917, British Troops captured Jerusalem from the Ottoman Turks. The Turks were allied to Germany, so from their bases in Egypt, forces of the British Empire sought to liberate the city and Holy Land from the control of Istanbul. For 700 years this city been under the control of Muslim powers. It came at a price- 28,000 empire troops perished in the invasion.
General Edmund Allenby, out of respect for the city's holiness, entered the Jaffa Gate on foot rather than the customary horse. British rule was not without its difficulties, but it was the final phase of gentile occupation before the Jewish state was declared in 1948.
The words of Jesus in Luke 21:24 read "And they will fall by the edge of the sword, and be led away captive into all nations. And Jerusalem will be trampled by Gentiles until the times of the Gentiles are fulfilled". (NKJV)
On the first Sunday after the occupation, a number of troops, led by the Lancashire Fusiliers, gathered at the Mount of Olives and sang 'Jesus Shall Reign' to the tune of Rimington by Francis Duckworth. This worship was surely an acknowledgement that Jesus shall come again, not in the shape of the British Empire, but the twice-coming Messiah:
Jesus shall reign where'er the sun
Doth his successive journeys run;
His kingdom stretch from shore to shore,
Till moons shall wax and wane no more.
For him shall endless prayer be made,
And praises throng to crown his head;
His name like sweet perfume shall rise
With every morning sacrifice.
People and realms of every tongue
Dwell on his love with sweetest song;
And infant voices shall proclaim
Their early blessings on his name.
Blessings abound where'er he reigns,
The prisoner leaps to lose his chains;
The weary find eternal rest,
And all the sons of want are blest.
Let every creature rise and bring
Peculiar honours to our King;
Angels descend with songs again,
And earth repeat the long Amen.
Isaac Watts (1674-1748)
based on Psalm 72:5-19
Photo Credit: Underwood & Underwood - This image is available from the United States Library of Congress's Prints and Photographs division under the digital ID cph.3b47734.