200th Anniversary Event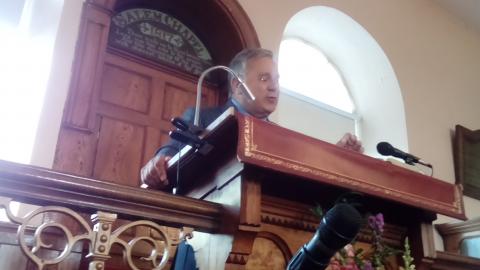 We celebrated 200 years of Salem Chapel last night. Roger Carswell from Leeds spoke. His message was perfectly pitched for our anniversary. He spoke on the fundamentals of the Christian Faith of which the risen Christ spoke- Christ's death for sinners, His resurrection and the indwelling of the Holy Sprit. It was a packed house with people sat on the stairs and aisle. I pray God used Roger's words to speak to all assembled; to believers and unbelievers alike. 
Readings from scripture were given by Lord Clitheroe, Joyce Holgate MBE, the Mayor of Ribble Valley, and Richard Sherras, our local district and parish councillor. Christine Thistlethwaite read a poem she had composed and the harmonies group accompanied the singing. 
If anyone who wasn't able to attend and would like a copy of the Order of Service, I'll send one on request.