Abbey of Mount St Mary, Barnoldswick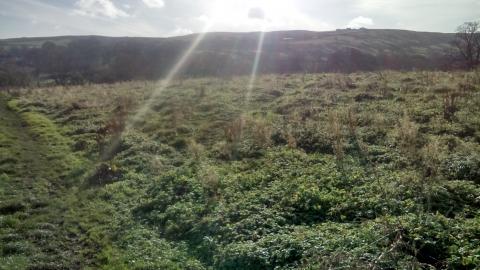 There was once an abbey in Barnoldswick called Mount St Mary. This week, I went a-looking for it. It closed after a few years, relocating to Kirkstall. In other words, the monks destroyed it themselves, saving Henry VIII the trouble. Nothing now remains, but an area of town called Monk Royd, royd meaning a clearing in the forest. By this area, next to Calf Hall Farm, is a fairly prominent hill with wonderful views and a stream running by. This, presumably, was the abbey site. An Edwardian map of the town points to the site of fish ponds, but I'm not convinced I found them.
The reason the abbey was founded, according to Serlo, an elderly monk, was Henry de Lacy, lord of Clitheroe Castle, falling ill and swearing that if he recovered he would build a monastery to the glory of God and St Mary. When he recovered, he chose the site of Bernolfeswic. In 1147, twelve Cistercians from Fountains Abbey duly arrived, along with ten lay brothers, who began to build their abbey on St Mary's Mount.
Thanking God for recovery from illness is commendable; building a monastery was considered a particularly pious act. When God answers your prayer, give Him not your money, nor build temples and shrines. Give him you. It's the most precious thing you have, the one thing of yours He actually desires.