Are you the Man with the Muck Rake?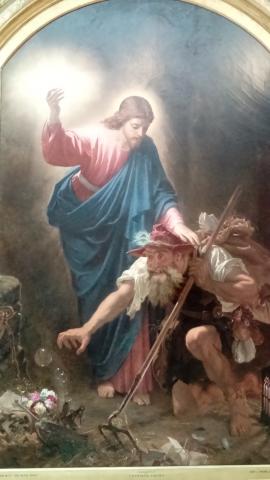 In Hull's Ferens Art Gallery is a piece by Sir Joseph Paton. It shows Christ standing over a man holding a celestial crown, but the man is more interested in some tawdry items on the floor. These include a skull, dried flowers and some bubbles. These represent the temporal treasures and benefits of this world, but also indicate the brevity of the pleasure they confer. The man is delighted with his latest finds that his raking up the muck has produced, but if he would only look up! Something of far greater value lies within his grasp, but his foolish face tells the viewer he will never see it.
The painting is in fact based upon the second book of John Bunyan's Pilgrim's Progress, wherein we read:
'…The Interpreter takes them apart again, and has them first into a room where was a man that could look no way but downwards, with a muck-rake in his hand. There stood also one over his head with a celestial crown in his hand, and proffered him that crown for his muck-rake; but the man did neither look up nor regard, but raked to himself the straws, the small sticks, and dust of the floor.
Then said Christiana, I persuade myself that I know somewhat the meaning of this; for this is a figure of a man of this world: is it not, good sir?
INTERPRETER: Thou hast said right, said he; and his muck-rake doth show his carnal mind. And whereas thou seest him rather give heed to rake up straws and sticks, and the dust of the floor, than to do what He says that calls to him from above with the celestial crown in his hand; it is to show, that heaven is but as a fable to some, and that things here are counted the only things substantial. Now, whereas it was also showed thee that the man could look no way but downwards, it is to let thee know that earthly things, when they are with power upon men's minds, quite carry their hearts away from God.
CHRISTIANA: Then said Christiana, O deliver me from this muck-rake.
Anyone who puts the pleasures of this world before the crown of life is the man in the painting- a fool, raking the muck. The gospel offers a crown of life to all who will follow Christ, but too few are prepared to look up and take a hold of it. 
But as many as received him, to them gave he power to become the sons of God, even to them that believe on his name. John 1:12