Beware Spiritual Pests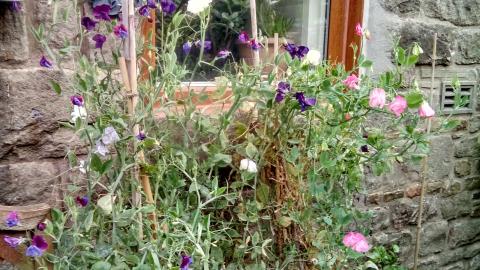 I grow Sweet Peas. They are one of the few plants I can successfully grow from seed. They always create a strong crop of sweet-smelling flowers. They also get attacked by pests every year. The aphids love them as much as I do. I avoid using chemicals to effect their removal, so I tend to pick them off manually. Whilst doing so this weekend, various parallels between these insects and the enemy of my soul came to mind.
They both feed on those that live. Aphids suck out the plants' sap with all its sugars and amino acids. It damages the plant but that is not the aphids' concern. Sin drains us of life, it diminishes our strength and eventually kills us. Satan was a murderer from the beginning, and leaves a trail of destruction wherever he goes.
Greenfly are well camouflaged. They are the same colour as the plant; it's sometimes difficult to detect their presence. Sin doesn't always resemble sin. Pride is often found in Christians, but masquerading under some other, holier name. We must examine ourselves carefully if we are to detect and deal with it.
Aphids attack the plants' most tender parts, such as the flower heads or shoots of new growth. Older leaves and stalks are more resilient and prove too tough; the enemy is always keen to attack areas of church growth or the new fruit of holiness. The more a Christian matures, the harder Satan has to work to achieve his plans. Younger Christians are still tender and more susceptible to his bite.
No matter how many of them I remove, they keep coming back. I must keep short accounts with them; only daily visits will keep their numbers down. They often reproduce asexually, vastly increasing the potential for multiplication. So with sin. It loves to grow. It loves to multiply. The believer must daily review himself and inspect his actions and motives.
Wind, rain and cold often kill off the pests for us. That's right- we may enjoy sunny, calm days, but so do they. Bad weather hurts them more than it hurts us. Life's trials are seldom pleasant experiences, but they create in us a dependency on the Lord that simply harms our sinful tendencies and refines our souls without our even realising it.
As autumn arrives, the aphidic denizens of my Sweet Peas will begin to disappear. But they'll be back, and I shall be ready for them.