Blackburn Cathedral: the Gateway of Heaven?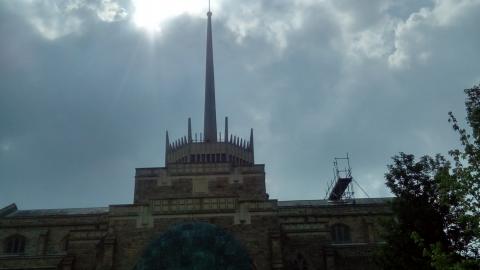 When I visited Blackburn Cathedral this week I was impressed by its light, clean interior and its external blending of modernist and gothic styles. I was also rather disturbed by something over the main entrance.
It was a regular parish church until elevated to cathedral status in 1926. The word 'cathedral' derives from the Latin cathedra meaning chair or throne. A church which contains the seat of a bishop is a cathedral church. And sure enough, a grand episcopal chair is there located.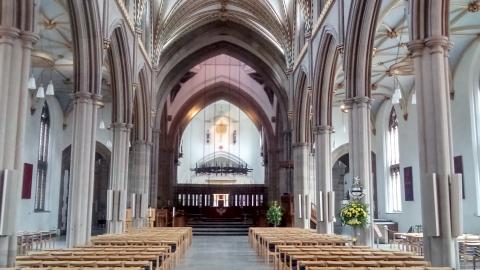 Unlike many cathedrals, it is bright and airy, and the focus of Blackburn's developing Cathedral Quarter. And yet, why should I, a church minister, be disturbed by the place? These words were written over the main entrance within the tower: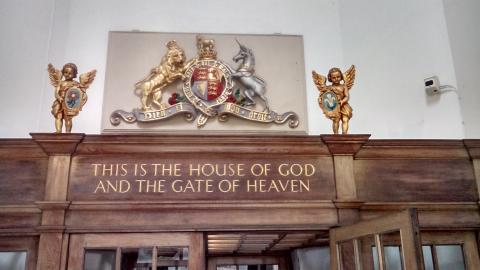 Our God no longer dwells in temples made by hands; He dwells in believers and in heaven. So this is inaccurate, but it's hardly unorthodox. But is it really the gateway of heaven? What a lofty claim! I don't think that the Dean and his canons are making grandiose claims about their particular building at the expense of all others. I suspect they mean that salvation is to be obtained through the ministrations and sacraments of holy mother church, of which this cathedral is a significant part. But this is simply wrong. Salvation is not bestowed by bishops and priests. Neither by the Anglican, Roman, or even Congregational denominations. It's not even bestowed by membership of the universal church, nor by baptisms and other ceremonies. We are saved by Christ Himself, and Christ alone. We obtain it by faith through Christ, not through good works or rituals.
Blackburn Cathedral is not the gateway of heaven. Christ is 'the Door' through whom we must pass, for 'salvation is given through no other name'.