Borderlands: Todmorden Town Hall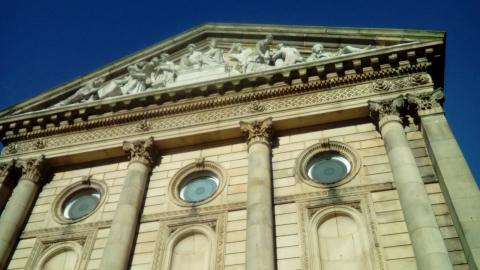 Todmorden town hall is a fantastic building, sitting in a prominent position by Walsden Water. It was initially built on the actual county border between Lancashire and Yorkshire. The imposing pediment on its frontage includes two women, one engaged in cotton spinning, the other in engineering and agriculture, embodying the spirits of the two counties. The border was relocated in 1888 placing Todmorden squarely in Yorkshire's West Riding. There's something interesting about the town hall's planners carefully selecting a site that would straddle two counties. This was a place where two historic shires met and overlapped.
The universe has a temporal, physical dimension as well as a spiritual, eternal one. When we die, we cross from one to the other. When Christ was incarnated, He entered the physical world from that realm of light. When we Christians meet together, our churches become that overlap between the two worlds: physical, yet spiritual; in this world, yet anticipating and tasting the next. The four chief components of public worship- prayer, worship, scripture reading and preaching are forays into that spiritual world of light. Truly, our Sunday worship meets at the border of two worlds.