Bracewell Church, Thomas Lister and Jenet Preston
This is the porch way of Bracewell Parish Church, near Barnoldswick. It was here that Thomas Lister, heir of Westby in Gisburn, was marrying in 1607 when his father was taken ill. His father cried 'Jenet Preston lies heavy upon me, Preston's wife lies heavy upon me!'. The registers say he died at Bracewell. His son assumed that Jennet, his housekeeper, was a witch and had killed him. She was eventually hanged at York for the crime.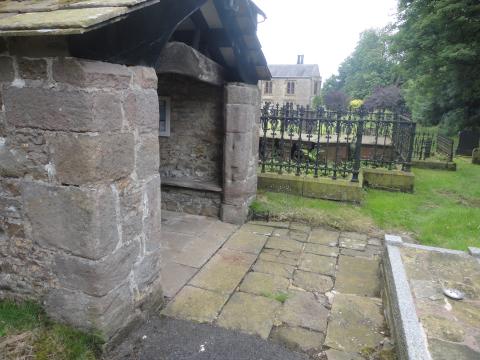 Jonathan Lumby in his excellent book The Lancashire Witch Craze, suggests the two may have been in a relationship, and that the poor woman was unlikely to be cared for after his death, hence Lister senior's anguished cry.
This porchway has therefore witnessed a happy wedding, a dying man, and the beginnings of Pendle's witch accusations. These proceedings are known throughout the world and are a terrible blot on our history. The Bible says there is a devil and there's certainly evil in the cosmos, but those simple men and women who were charged with serving him 400 years ago were victims, not perpetrators. They were denied justice on earth; they will see justice on the Day of Reckoning.