Chapel le Dale Church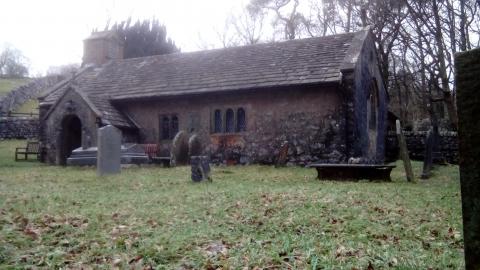 Last week I walked from Ingleton to Chapel le Dale. Although not a long walk, it made my legs sore and the road out of Ingle town is frequented by the noisiest, heaviest trucks from the quarries. Our destination was really just a hamlet with a quaint church attached, as its name perhaps indicates. The church goes back to the fourteenth century though the oldest parts of the building are Tudor. Although I saw no Bible verses displayed or explanations of the gospel, I was still pleased the church was left unlocked and that it functions on Sundays. Sadly, godlessness has infected much of our countryside, as well as our towns and cities 
Its guidebook says it has existed under a number of different names ranging from 'Chapel of Wyerrsdaile' in 1595 and the Chapel of Whitfalls in 1618. I prefer the 1677 name of Chapel 'ith Dale or its eighteenth-century name of Ingleton Fells Chapel. From the 1940s it was known as St Leonard's, which seems a bit anticlimactic.
There is much wisdom to be found in graveyards, more so than our universities. This one is no exception: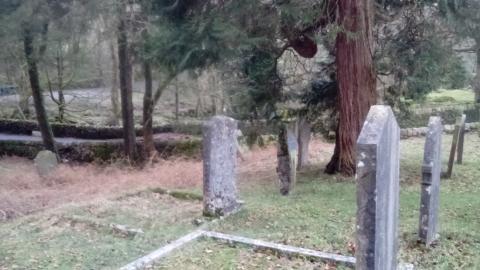 Near this place lie the mortal remains of Abram Kidd late of Bruntscar, Gentleman, Ob. 25thSept 1780. Learning a more important lesson that all the majestic strength and vigor (sic) of man in which none of his contemporaries presumed to call him fellow shall nought avail where death to execute his dread warrant is commissioned by the Most High.
Quibus moribus imbutus et qualis erat supremus dies indicabit (crudely translated imbued with the moral standards of the highest quality, and time will tell).
Presumably, Mister Kidd was physically weak or disabled, and much looked-down upon by his neighbours. Yet death came to them all, and his weakness and their strengths now matter not.
Elsewhere are the graves of the Mathers family, local publicans. In 1872, two of their toddling children died within months of each other. James, the father, was crushed by his own cart a month or so afterwards. Their headstone reads:
When I was in the prime of life,
It was through a fall I lost my life
No man in this world need boast of his might;
He is alive in the morning and dead at night. 
More tragically still is a memorial in the church's interior to the many men ('navvies') who died working on the Settle-Carlisle railway. Many of their families are buried here also; living in wooden huts on-site, they often contracted smallpox. Around 200 of them were laid to rest at Chapel le Dale, often in unmarked graves. I'm often the first to complain about stifling health and safety regulations, but had these poor folk had such protection, this graveyard would not be quite so full.