Christ Church, Jerusalem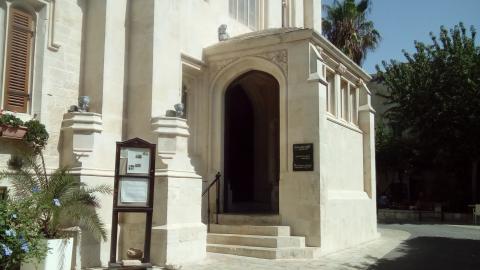 Seldom do I join other congregations as a worshipper. If I visit other fellowships, it is usually as the preacher. Today I worshipped at Christ Church, an evangelical Anglican congregation inside the walls by Jaffa Gate, fifteen minutes from my hotel. Unlike evangelical Anglicans in England, it's unashamedly liturgical which I found refreshing. It uses the New King James and had a mixture of contemporary worship songs and gospel hymns, such as When Peace Like A River, which we sang morning and evening. 
The two clerics both wore black shirts with dog collars, but mitigated the formality with cream chinos and jeans. The sermon was over half an hour, and I received communion once I was assured I'd not be expected to kneel before the bread, which in any case was Jewish matzah rather than a wafer.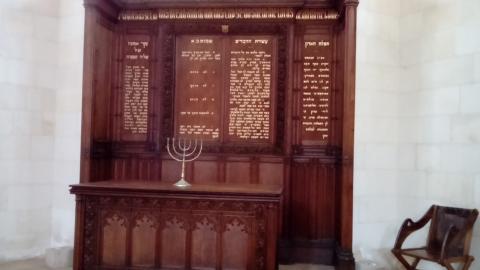 The church was designed in the 1840s with a view to reaching out to Jews, which is still does. There was much opposition to its building, and Lord Shaftesbury among others lobbied successive Foreign Secretaries to support the venture. Indeed, it is the oldest Protestant church in the Middle East. No images are found in the windows and a Jewish menorah stands on the communion table. Some Hebrew blessings are sung which was particularly lovely. Jewish followers of Christ continue to worship here and it conducts some meetings in Hebrew. The place of worship is part of a complex that once housed the British consulate when the city was under Ottoman control. It is now a church guesthouse and cafe. 
Although it's clearly a successful church with a wonderful mission, I did notice some things that made me reflect on my own practice:
The important of stewards on the door. Orders of service were not collected by everyone and a welcoming face and extended hand is more valuable than we think. 
The importance of the preacher being heard. The fans at the back and the preacher's homely voice meant much of his message was indecipherable. A microphone would have been great. 
Tall charismatic men. Why do they insist on sitting on the front and middle rows, so their arm-waving requires smaller worshippers to their rear to sway and bob that they might better read the words on the screen?
I pray God's blessing upon this fellowship and all that it does.