Complaints Department
As is often remarked, this not so much an Age Of Enlightenment as an Age Of Entitlement, in which all the world and his wife think that the rest of the world owes them a living and that there are many and various benefits that are theirs by right. And, if you don't get what you want, complain about it, mobilise the social media, fret and fuss and groan and grumble until your just demands are met.
Of course, some complaints are quite reasonable, and it's obvious that something should be done to deal with the pressing problems which a number of us face in our everyday lives, through no fault of our own. Take my case, for example. Why can't I get hold of a copy of Handsome Dick Manitoba And The Dictators' "Faster...Louder" anywhere? Why do I always have to trail off to the Sorting Office to pick up parcels sent via Royal Mail? Why does nobody sell boot cut jeans in black denim any more? And where can you get a decent haircut these days for less than £3.50?
It's true that my wife has said, on more than one occasion, "D'you know what? You're always moaning!" My usual reply is, "Well, there's so much to moan about, you've got to start early in the day and keep it up till late at night, or you'll never get to the end of it."
An unreasonable attitude? Quite so, but one that is all too evident in the life of God's chosen people on many occasions in the Old Testament, often with disastrous consequences.
Numbers 14.11-23
And the Lord said to Moses, "How long will this people despise me? And how long will they not believe in me, in spite of all the signs that I have done among them? I will strike them with the pestilence and disinherit them, and I will make of you a nation greater and mightier than they."
But Moses said to the Lord, "Then the Egyptians will hear of it, for you brought up this people in your might from among them, and they will tell the inhabitants of this land. They have heard that you, O Lord, are in the midst of this people. For you, O Lord, are seen face to face, and your cloud stands over them and you go before them, in a pillar of cloud by day and in a pillar of fire by night. Now if you kill this people as one man, then the nations who have heard your fame will say, 'It is because the Lord was not able to bring this people into the land that he swore to give to them that he has killed them in the wilderness.' And now, please let the power of the Lord be great as you have promised, saying, 'The Lord is slow to anger and abounding in steadfast love, forgiving iniquity and transgression, but he will by no means clear the guilty, visiting the iniquity of the fathers on the children, to the third and the fourth generation.' Please pardon the iniquity of this people, according to the greatness of your steadfast love, just as you have forgiven this people, from Egypt until now."
Then the Lord said, "I have pardoned, according to your word. But truly, as I live, and as all the earth shall be filled with the glory of the Lord, none of the men who have seen my glory and my signs that I did in Egypt and in the wilderness, and yet have put me to the test these ten times and have not obeyed my voice, shall see the land that I swore to give to their fathers. And none of those who despised me shall see it."
Things don't seem to be all that different in some N.T. churches, though there the believers seem to have been angry with each other as well. Paul writes to the Philippians as follows.
Do all things without grumbling or disputing, that you may be blameless and innocent, children of God without blemish in the midst of a crooked and twisted generation, among whom you shine as lights in the world, holding fast to the word of life, so that in the day of Christ I may be proud that I did not run in vain or labor in vain. (Philippians 2.14-16)
One commentator on this topic writes as follows.
Clearly, as believers we are challenged not to grumble or complain (1 Peter.4-9); rather, we are to love one another deeply so that we may become "blameless and pure" in God's eyes. If we grumble and complain, it shows how worldly we still are (James 4.1-3). A complaining spirit leads to fighting and quarrelling because complaints come from unfulfilled desires, which lead to envy and strife. Was that not at the root of the problem with the sons of Israel, when they chose to dispose of their brother Joseph, because of his dream (Genesis 37.3)?
Hmm. When I've posted this, it might be a good idea to read it over to myself - several times.
Meanwhile, if you have any complaints about anything I happen to have written here or elsewhere, feel free to contact me at my office during the daytime. Eagle-eyed readers will have seen the address on the parcel pictured in "Unboxing". (See Archives, 11.7.17.) Here it is again, enlarged.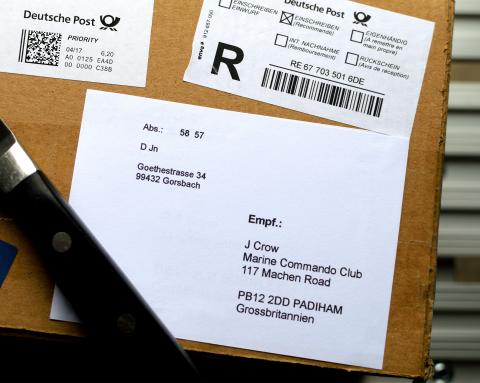 Out of hours, you might be able to catch me at home: First Tree On The Left, Old Packhorse Way, Clowbridge Reservoir, Clowbridge, Lancashire, BB11 5PF.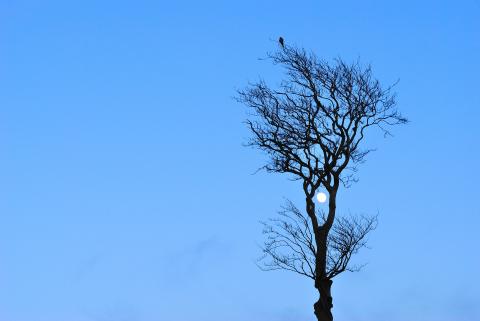 Hope you've got a head for heights.