Dukinfield Old Hall Chapel: the Oldest Congregational Chapel in Britain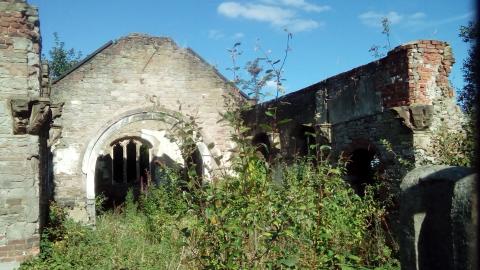 Inbetween today's services I drove down to Tameside in Greater Manchester. The Mancunian motorway system fills me with dread, so whatever tempted me to make such a perilous journey must have been worth it. Today is a heritage open day, and one historic gem otherwise closed was the Dukinfield Old Hall Chapel. It's in a ruinous condition and surrounded by an unattractive modern industrial estate. The building is special because it is claimed to be the oldest Congregational Church building in the country. 
It was built in Elizabethan times as the private chapel of the local Dukinfield family, at Dukinfield Hall. They were puritans who by 1642 were convinced Independents, which is the original name for Congregationalists. The head of the family, Robert Dukinfield, was a Parliamentary colonel and associate of Cromwell. His statue stands outside the town hall.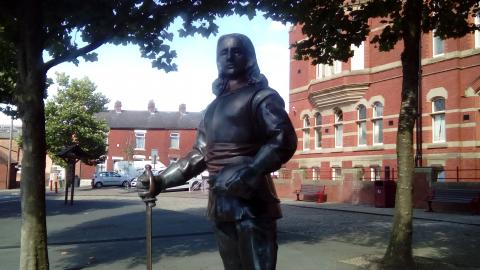 So although it was licensed as an Anglican place of worship, the power of a gentry family over their own private chapel was paramount. They appointed Samuel Eaton as their minister, and thereby administrated the chapel according to the Congregational Way. 
There are older Congregational fellowships, and there may be more elderly Congregational buildings in America (something I intend to look into), but this is the oldest building in which Independents regularly worshipped.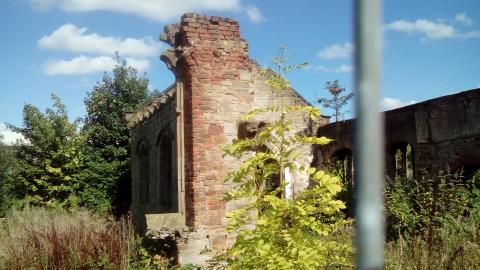 Although extended and improved in Victorian times, a fire destroyed all the nineteenth century fabric including the roof. What's left are the Tudor walls and nave. Sadly, the walls are not strong, and we were not permitted to go beyond the fences. Nevertheless, the Friends of Dukinfield Old Hall Chapel (not to be confused with the nearby Dukinfield Old Chapel, which is Unitarian) have plans for its conservation. 
Well worth a drive to Manchester.