Garstang Free Methodist Church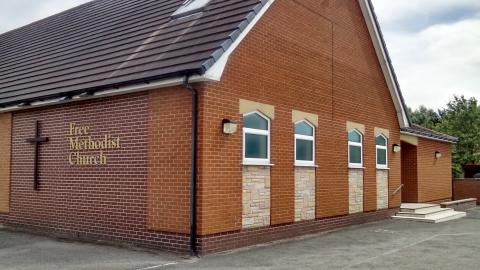 This is Garstang Free Methodist Church, located in an attractive market town about eleven miles north of Preston. It was here in November 1991 that I was baptised by total immersion by Pastor Andrew Gardner and Mr Clifford Small. I attended the church in Lancaster, but we hadn't yet obtained our own building, and our brethren at Garstang had a joint service with us. 
 I seem to think there was at least twelve of us being baptised that night and I, being the smallest, was last in the queue. I must admit that the water was less than warm by that time and it was far from clean- it's funny the things we remember. I was too timid to do much speaking back then. I didn't even give a testimony so opted for the safer option of reading a psalm before getting dunked. 
The church was founded by evangelical Methodists who were tiring of some of the liberal teaching within mainstream 1970s Methodism. Led by the great Rev Barry Walton, they 'came out', along with the congregations at Crown Lane and Heysham. As a teenager I remember it having a large youth group with a full time youth leader called Roy. I liked Roy- he remembered my name even though I attended another church. 
I know little of the Garstang church now though I wish it well.