The Geneva of the North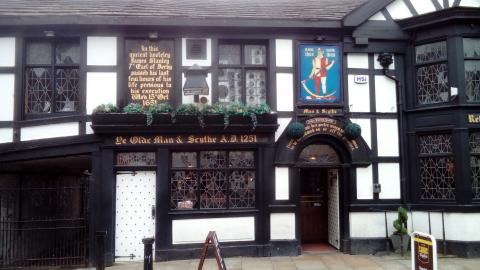 This description was coined by seventeenth century folk to describe Bolton. Its non-Puritan enemies described it as 'the most malignant town in Lancashire'. Naturally, I beg to differ. Oliver Heywood, one of the Christians of that time remembers attending a prayer meeting of the leading gentleman of the area (many of whom now have pubs named after them, followed by the word Arms):
'Many days of prayer have I known my father keep amongst God's people; yea, I remember a whole night wherein he, Dr Bradshaw, Adam Fearnside, Thomas Compton and several more did pray all night at a parlour at Ralph Whittal's....such nights of prayers, tears and groans I was never present at in all my life. The case was extraordinary, and the work extraordinary'. 
Furthermore, Bolton was the home of George Marsh, Protestant Martyr, arrested at Smithills Hall and burned to a crisp for his faith in Christ. The blood of the martyrs is indeed the seed of the church. 
Interestingly, Blackburn was considered the next most Puritan Lancastrian town, followed by Clitheroe which elected two sound parliamentarians to the Long Parliament despite the influence of the royalist castle- Ralph Assheton of Whalley and Richard Shuttleworth of Gawthorpe Hall, Padiham. 
Our area, though presently godless, has a rich Christian heritage. The picture is of Bolton's oldest pub, The Man and Scythe, dating back to 1251, and rebuilt in 1636. It would therefore have been known to many of the godly folk described in this entry.