Handel's Messiah at Blackburn Cathedral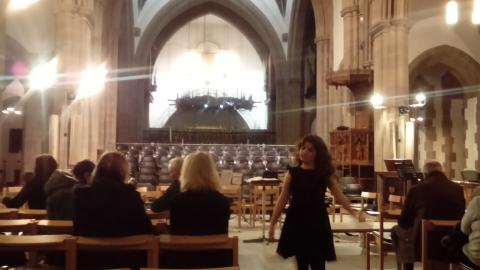 A dozen of us went to Blackburn's cathedral last weekend to hear Messiah by the town's Music Society. Despite the venue's cavernous, echoing interior, I heard the words wonderfully well, in part no doubt to DL's careful choosing of our chairs, affording neither deafening proximity nor great distance. The words are entirely based on scripture, a mixture of the Authorised Bible and the psalms of the Book of Common Prayer. It begins with Old Testament prophecies of the coming Messiah, and ends with the resurrection of the dead and the worship of the Lamb in heaven.
As the Hallelujah Chorus commenced, we duly observed the tradition to stand, a practice said to originate when George II stood up at the London premier in 1743, perhaps believing it was the national anthem. Or was the king acknowledging the King of kings? Either way, when the king stood, so did all others. Having composed that particular piece, Handel later remarked "I did think I did see all Heaven before me, and the great God himself." Perhaps that is the real reason we stand; it's the closest on earth we come to the angelic choirs of heaven.
Contemporaries were sometimes less impressed than we moderns. When it was first performed in Dublin, some boycotted it because it included the word 'Messiah' in a piece of non-church music, which was little short of blasphemy. Handel responded by calling it 'A New Sacred Oratorio' on the first hand-bills. John Wesley, who attended an early performance, remarked: "there were some parts that were affecting, but I doubt it has staying power". The good Mr Wesley was, thankfully, mistaken.
One of my truly favourite pieces is Worthy is the Lamb, a rendition of which you may listen to here: