Huldah Gates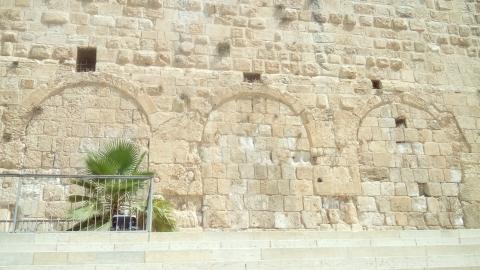 Last summer, I had the privilege of standing by and touching the now blocked-up Huldah Gates, that once led into the Temple of God at Jerusalem. Hulda in Hebrew can meal mole or mouse and may refer to the underground passages to which these three gates were connected. More likely, it as was where the prophetess Huldah dwelt and was buried at the time of Josiah:
2 Kings 22:14-20
14 So Hilkiah the priest, and Ahikam, and Achbor, and Shaphan, and Asahiah, went unto Huldah the prophetess, the wife of Shallum the son of Tikvah, the son of Harhas, keeper of the wardrobe; (now she dwelt in Jerusalem in the college;) and they communed with her. 15 And she said unto them, Thus saith the Lord God of Israel, Tell the man that sent you to me, 16 Thus saith the Lord, Behold, I will bring evil upon this place, and upon the inhabitants thereof, even all the words of the book which the king of Judah hath read: 17 Because they have forsaken me, and have burned incense unto other gods, that they might provoke me to anger with all the works of their hands; therefore my wrath shall be kindled against this place, and shall not be quenched. 18 But to the king of Judah which sent you to enquire of the Lord, thus shall ye say to him, Thus saith the Lord God of Israel, As touching the words which thou hast heard; 19 Because thine heart was tender, and thou hast humbled thyself before the Lord, when thou heardest what I spake against this place, and against the inhabitants thereof, that they should become a desolation and a curse, and hast rent thy clothes, and wept before me; I also have heard thee, saith the Lord. 20 Behold therefore, I will gather thee unto thy fathers, and thou shalt be gathered into thy grave in peace; and thine eyes shall not see all the evil which I will bring upon this place. And they brought the king word again.
Huldah prophesies the fall of Jerusalem and devastation of Solomon's temple; the gates now named after her are in fact part of the remains of the next temple to be built and destroyed. That one to whom a message of destruction was given should still be commemorated in the very building whose demolition she saw is beautifully ironic. Perhaps her name is a continual reminder to the Jewish nation that rejection of the gospel only ever ends in death and dereliction, but that a tender and humble heart can assure one of resting with the Father.