Martin Luther notes
Last week we had the first of our Bible Studies on 'Heroes' of church history. Here are the notes from our first session:
Martin Luther 1483-1546
Born: Saxony, now Germany.
Occupation: Studied for Law; became a friar, Roman Catholic priest and professor of theology.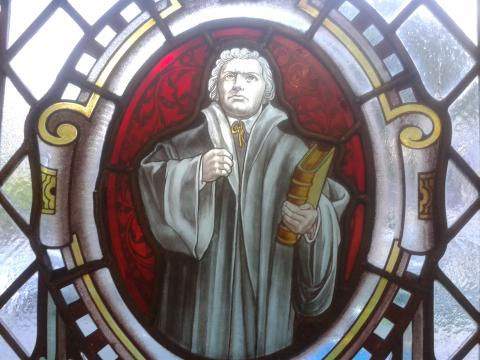 Roman Catholic beliefs and practices against which he fought:
Purgatory
Indulgences
Papacy
Saints and Mary
Priestcraft
Unintelligible scripture
Works salvation
Celibate clergy
Controversy:
Against the Murderous, Thieving Hordes of Peasants
Against the Jews and their Lies
'Wives or prostitutes'
Potty-mouthed humour (see below)
Quotes
'Here I felt that I was altogether born again, and had entered Paradise itself through open gates'
'Let the Turk believe and live as he will, just as one lets the papacy and other false Christians live.'
'Prayer is a strong wall and fortress of the church; it is a goodly Christian weapon.
'The will is a beast of burden. If God mounts it, it wishes and goes as God wills; if Satan mounts it, it wishes and goes as Satan wills; Nor can it choose its rider... the riders contend for its possession.'
'Pray, and let God worry.'
'Be a sinner and sin strongly, but more strongly have faith and rejoice in Christ.'
'I cannot and will not recant anything, for to go against conscience is neither right nor safe. 'Here I stand, I can do no other, so help me God. Amen.'
'Reason is a whore, the greatest enemy that faith has.'
'The Gospel cannot be truly preached without offense and tumult.'
'Dear Devil . . . I have soiled my pants and breeches; hang them on your neck and wipe your mouth with them'
'The Pope is a mere tormentor of conscience. The assembly of his greased and religious crew in praying was altogether like the croaking of frogs, which edified nothing at all.'
'I am cleansing my bowels and worshipping God Almighty; You (Satan) deserve what descends and God what ascends.'
 'It is a wonder that it did not tear his hole and belly apart' (on the Pope breaking wind).