No Breastplate, No Job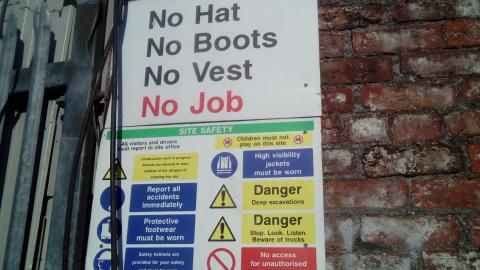 I saw this sign while walking up a side street in Bury. Clearly, this building firm don't spend their time complaining about the latest 'elf and safety regs'. If you're not safely equipped when you come to work here, look for employment elsewhere. Fair enough!
Paul describes our essential equipment in Ephesians 6:
Stand therefore, having girded your waist with truth, 
Having put on the breastplate of righteousness, 
Having shod your feet with the preparation of the gospel of peace;
Taking the shield of faith with which you will be able to quench all the fiery darts of the wicked one.
Take the helmet of salvation,
Sword of the Spirit, which is the word of God;
Praying always with all prayer and supplication in the Spirit,
Being watchful to this end with all perseverance and supplication for all the saints. 
No sword? No shield? Too busy to pray? Don't expect to survive as a Christian.