Preston Prison
The picture below is Her Majesty's Prison, Preston. A few years ago, I was invited on a tour of the place. I found it rather grim; lots of clanging doors, lots of bars, lots of noise. To many people, this is how prison should be- hard and punitive. These people have committed crimes, now they must pay for it. So why do we lock people up?
1)      Deterrence. Seeing someone else punished deters us from repeating their actions; we learn from their mistakes and thereby improve our behaviour.
2)      Retribution. We are seeking to inflict pain on those who themselves caused it to others. An eye for an eye, a tooth for a tooth. Their stay in prison is hard because that is what they deserve.
3)      Reformation. We seek to change their ways of thinking and acting. We offer education to those who lack it, anger management to those who need it. They must leave the jail different people to they who were first admitted.  
4)      Reparation. They are there to repay their victims and society at large. Some pay with fines, others with time from their life.
5)      Vindication. The law-abiding majority are 'proved right' and justified when law-breakers are caught and punished. We lock people up to uphold the very laws they sought to ignore or disparage.
Some observations on prisons from a Christian perspective.
1)      Inmates are being rightly punished, but we are called to forgive. This is not some soppy statement- I acknowledge that only the victims have the right to offer absolution, not arm-chair theologians. But we may remember that the standard and measure of mercy we offer to others, God will in turn use for us.
2)      Many inmates are themselves victims. They are usually drawn from poorer homes with low standards of education, from areas of economic deprivation. Many lacked loving parents who were able to offer them the discipline and order that children secretly crave.
3)      They are testament to human depravity. All humans are contaminated by sin. The sins of some are obvious, reaching the place of judgment ahead of them; the sins of others trail behind them. I may not have burgled a house, but I have still looked with envy at others' possessions. A righteous God despises both.
4)      Prisons offer the Church opportunities for service and evangelism. 'When did we see you sick or in prison and go to visit you?' The King will reply, 'I tell you the truth, whatever you did for one of the least of these brothers of mine, you did for me.' " Matthew 25:34-40. Assist and pray for prison ministries. Some folk are hard to reach with the gospel because they cannot admit their sin; few receiving Her Majesty's hospitality are in such a position.
5)      Prison is a picture of Hades or hell. It's a holding tank for the souls of wicked humans. Some have been judged, others are awaiting judgement. The chief difference is that people in prison have the hope of release and a new start. The eternal prison offers no possibility of release.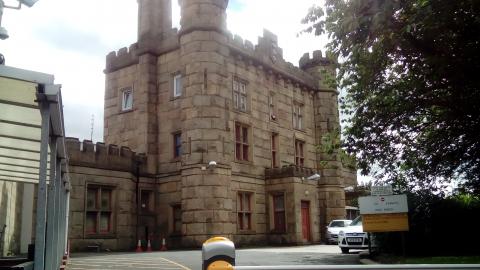 To avoid the promised judgement, we may ask the Judge to accept Christ's payment on our behalf.
Isaiah 55:6  Seek the Lord while He may be found, Call upon Him while He is near.
Jesus said in Luke 4:18: "The Spirit of the Lord is on me, because he has anointed me to proclaim good news to the poor. He has sent me to proclaim freedom for the prisoners and recovery of sight for the blind, to set the oppressed free."