A Preston Puritan Family Portrait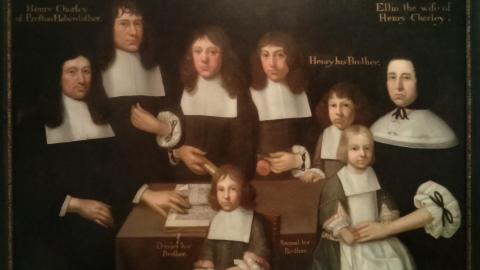 On display at Preston's Harris Museum and Art Gallery is a large family portrait. Of the middling-sort, the Chorley family were typical of the Lancashire puritans 1640-60. A number of things stand out from the picture. 
The pater familias, Henry Chorley, was born in 1631, the son of a butcher. He was a haberdasher by trade, and probably had a shop on Preston's Fishergate. He, like the rest of the family, dresses in plain, dark colours and bright white linen collars. He wears his hair fashionably long; he may be a plain puritan but he's not dowdy.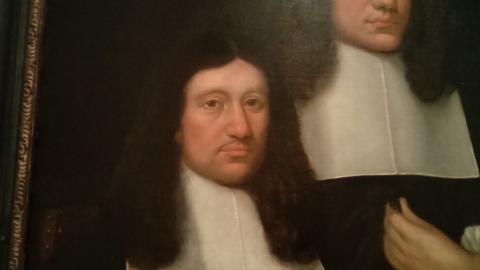 He's reading a book, almost certainly a Bible. In fact, I'm almost certain that it's the Calvinist Geneva Bible, rather than the approved Authorised Version. Up close, one can see printed margin notes. The Geneva had these marginal comments, and Henry, a good presbyterian, would have doubtless preferred this translation.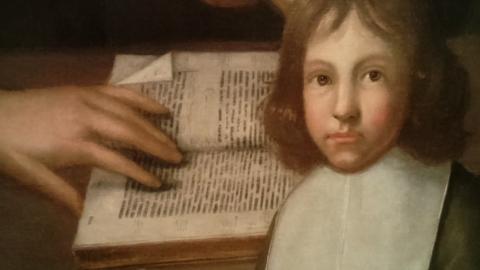 His wife, Ellen, looks rather sour and prim. Her collar more than covers her chest unlike those of the cavalier ladies and she keeps her head covered to show her husband's authority. She's not a grim-looking matron for nothing; she had nine children, six of which survived, during a civil war in which Preston saw much fighting. It's a wonder she looks as cheerful as she does.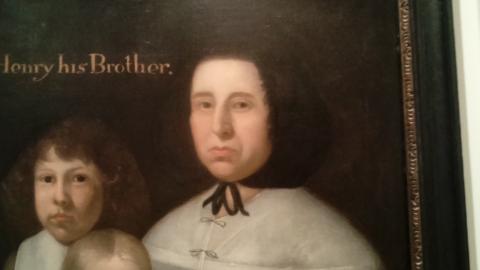 The surviving sons look like obedient clones of their father. Childhood, it can be argued, was invented by the Victorians; teenagers are a product of the 1950s. These boys dress like Henry. The youngest, on the bottom right, is a son, not a daughter. Seventeenth century boys were dressed like girls until around three. 
Daniel, the lad in the centre foreground, is also holding a book, though my camera has cut this. The Harris' explanatory material suggest it's a Prayer Book. I very much doubt that presbyterian folk of this period would have allowed their children to read such a publication; it was something they particularly loathed.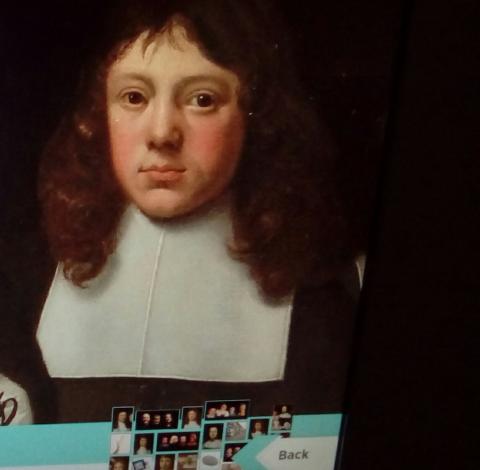 Josiah, in the centre, above the Bible, holding an unidentifiable wooden object, became a presbyterian minister. In 1688 he published A Brief Memorial of the Bible, an aid to remembering every chapter of scripture. He left £200 to Preston's Presbyterian church; this man would have been subject to unpleasant persecution for his faith and ministry since the Act of Uniformity in 1662. 
Train up a child in the way he should go,

And when he is old he will not depart from it.
Proverbs 22:6