Safeguarding Certificate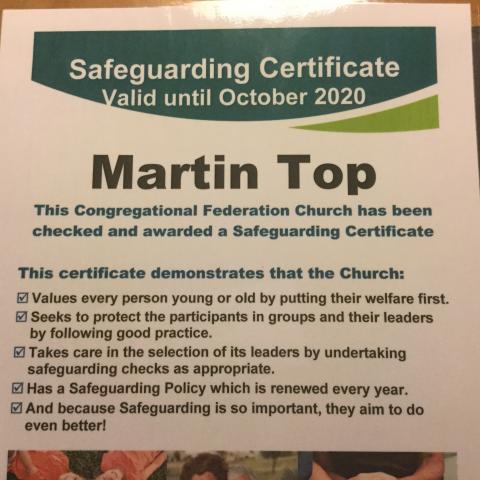 In Nehemiah 8, the Judean governor delegates the responsibility for the citadel and Jerusalem to others. He also offers instructions regarding the opening times of the city gates. Here is a hint of what Nehemiah spent a good deal of his time doing- administration. There's not a great deal of it recorded in the book; the writer knows it's not terribly interesting. But it still has to be done.
I took comfort from Nehemiah over the last few weeks as I worked on various Church Policies that the Congregational Federation wished to see in order for them to award us a Safeguarding Certificate. I completed something like 48 pages of Safeguarding policies, photography policies, risk assessments, fire extinguisher records, first aid kit records, fire policies as well as DBS records, first aid certificates, food hygiene certificates and evidence of PAT testing. A lot of paperwork, but these are the days in which we live. And it's better to have lots of paperwork that keeps everyone safe than its opposite. I'm pleased that the aforementioned certificates arrived this morning. 
Pastoral work is not all preaching and praying. Sometimes it's filling in forms and checking first aid kits. It's neither glamorous nor fun, but as Nehemiah would no doubt vouch, it has to be done.