St Mary-le-Ghyll, an English Pope and some Spiteful Monks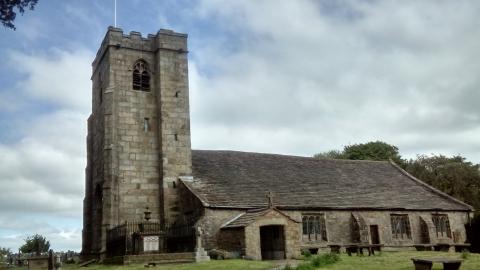 One of the oddities of Barnoldswick is the location of its original parish church. Most such buildings are at the heart of their communities; Barnoldswick's lies over a mile from its historic centre. 
Monks from Fountains Abbey came to Bernolfeswic in the 1100s to establish a new abbey. There is still a part of the town called Monk Royd, and the remains of fish ponds are noted on maps. The new foundation was a failure, however. The damp climate hindered harvests and the local folk objected to the monks' destruction of their church. The original sanctuary was probably a wooden and thatch affair surviving from Saxon times, which the monks wished to replace.
The monks were driven away by both the climate and the Barlickers and went off to found Kirkstall Abbey near Leeds in 1152. The locals however were without a church, and so an appeal was made to the Pope. The then Bishop of Rome was Nicholas Breakspear, the only English pontiff. Although he agreed the monks were right to have improved the previous church, he ordered they rebuild it, which they had failed to do. 
They therefore returned to Barnoldswick in 1160 and built the current church of St Mary le Ghyll, which is pictured, though the tower is later. So why build it so far away from the town? Spite. It was still within the township boundaries, but would require most of the denizens to walk some distance. A petty act of revenge. Of course there may be another reason, but this seems the more likely. 
Because the church was inconvenient to attend, an alternative was built in the town. The Victorians therefore didn't bother to 'improve' it; the triple decker pulpit and Jacobean box pews remain. If you'd like to see what a seventeenth century English church looked like, visit Barnoldswick.