Tough Trees at Cockersands Abbey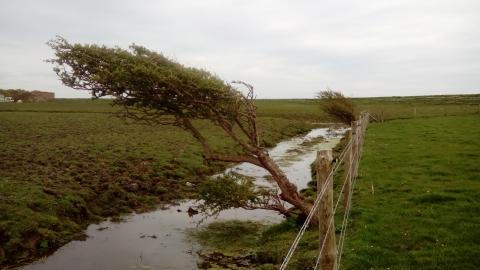 Yesterday I visited Cockerham sands, a barren, wild place upon which once stood the medieval Cockersands Abbey. It's now ruinous and mostly disappeared. The strong winds carrying the salty sea spray batter the coast mercilessly. One wonders if the good monks reckoned Thomas Cromwell had done them a huge favour.
There are few trees in the area. Those closest to the coastline have developed unusual shapes to withstand the conditions. They have their 'backs' to the wind. Yet they have not given in or given up. Their difficult circumstances have shaped them yet they still resist the gales that would uproot them and blow them away.
I would suggest that these trees must be some of the toughest in the area. The harsh weather has not weakened them, it has strengthened them.
The Lord allows us to face life's challenges, not because he's too busy to remove them, or enjoys our suffering, but because it makes us stronger. In 2 Corinthians 11, Paul writes
From the Jews five times I received forty stripes minus one. 25 Three times I was beaten with rods; once I was stoned; three times I was shipwrecked; a night and a day I have been in the deep; 26 in journeys often, in perils of waters, in perils of robbers, in perils of my own countrymen, in perils of the Gentiles, in perils in the city, in perils in the wilderness, in perils in the sea, in perils among false brethren; 27 in weariness and toil, in sleeplessness often, in hunger and thirst, in fastings often, in cold and nakedness— 28 besides the other things, what comes upon me daily: my deep concern for all the churches. 29 Who is weak, and I am not weak? Who is made to stumble, and I do not burn with indignation?
Paul had become like the Cockersands tree- spiritually strong, and hard as nails. Proverbs 24:10 says
 If you faint in the day of adversity, your strength is small.
Life's difficulties shape us. Our roots learn to grip and our branches will not be shaken, no matter how fierce the gale. The Lord never promised us ease and luxury, but He did promise strength and security.
Psalm 46 begins:
God is our refuge and strength,
A very present help in trouble.
Therefore we will not fear,
Even though the earth be removed,
And though the mountains be carried into the midst of the sea;
Though its waters roar and be troubled,
Though the mountains shake with its swelling.