Troubles in Jerusalem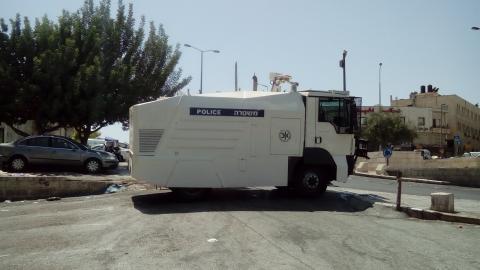 The BBC reports tensions in Jerusalem which I have not witnessed until this afternoon. Israeli police officers were attacked last month, so they increased security around the Temple Mount, currently an Islamic place of worship. They afixed barriers and checkpoints. The Muslim community felt that this was merely an assertion of Israeli dominance and boycotted the area. The security equipment was removed this week, but today a mass protest just outside the Old City saw mounted police and water canons eyeing up the crowds.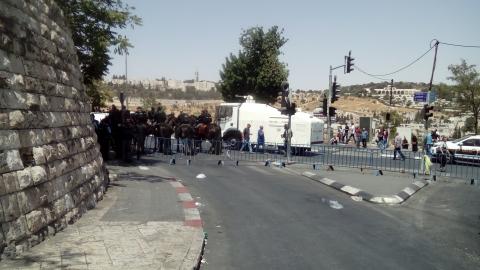 A bunch of Israeli flag-waving nationalists were walking ahead of me around the walls, protesting at their government's apparent climb down. The security forces turned them away, but let me through. My naive looking tourist outfit of straw hat, orange sun glasses, backpack and guidebook meant I presented little threat to the Israeli state. The next checkpoint demanded to know which country I was from and where I was you going. Again, my answer of England ('Britain', I fear, may not ring merrily in the ears of military types) and fumbling with a map meant he waved me on. Guarding the Lions Gate I counted forty-five armed police and soldiers, in an area of around 30 squared feet. 
Psalm 122 urges 
Pray for the peace of Jerusalem:
"May they prosper who love you.
Peace be within your walls,
Prosperity within your palaces."
Peace will only come when Messiah returns; praying for peace in Jerusalem is essentially praying for the Second Coming. Yet I do pray for the peace of this city in the meantime. World stability depends on its safety; gospel opportunity will only be harmed if conflict flares up.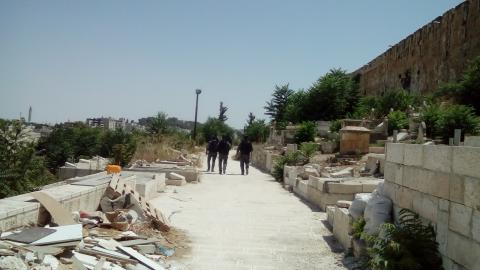 Soldiers patrolling the walls