Valley Youth at Crosby Ravensworth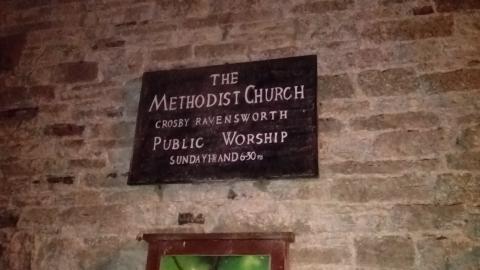 I've just returned home from speaking at Valley Youth up in the Cumbrian Hills. It meets at the Methodist Chapel at Crosby Ravensworth, in between Shap and Tebay. A number of things impressed me tonight. 
1) It's led by a group of young men who have a real passion for Biblical truth. OJ and S in particular impressed me, but the others in the music group had a real spirituality about them. They want strong gospel preaching, not soft-soap-and-flannel.
2) They love good songs. Most youth meetings make a point of singing the latest Christian hits; these judge songs by the quality of their words. Consequently, they employed their guitars, drums and sax to such songs as The Old Rugged Cross and Nearer My God to Thee. 
This is a great work and I pray it develops and grows. I see mighty men of God in the making.
After the meeting and the usual drinks and snacks, a number of the young men played table tennis round robin (6-8 of them run round the table, each in turn picking up the bat to hit the ball). They developed a system of forfeit whereby he who loses the round stands bare-chested while the others in turn whack the ball at him. A number of them showed off round red marks on their torsos. They asked me if I'd like to join in. I declined.