Vinny Commons & the Spring Effort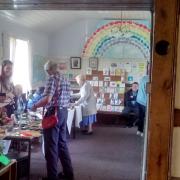 Today was our Spring Effort. In most places it would be called a Spring Fair, but Martin Top is not most places. It all started back in 1927 and continued ever since. 
I opened by quoting an email received from a dear lady at the beginning of the week. She attended a Spring Effort from fifty years ago with her then boyfriend, whom she married. Her memories of it were very nostalgic and happy. 
Vinny Commons from Southport spoke, offering a challenging message. He told us that religion can't save anyone, only Jesus Himself can do this. 
Afterwards people enjoyed tea, cake stalls, jam stalls and book stalls. Fifty or sixty people must have attended, many from the local farms and villages. My thanks to all who invested the effort this Spring.