Wallace Hartley: Nearer, my God, to Thee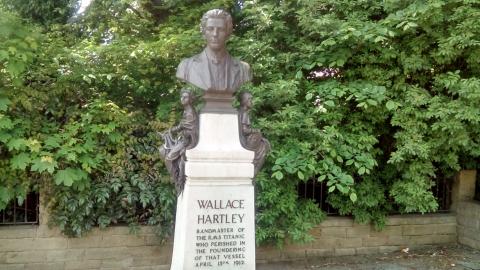 On the main street in Colne is located the bust of a man of whom most people have heard but few can name. Wallace Hartley was the bandmaster on the doomed Titanic which sank in 1912. Hartley was brought up in Colne and was a member of the Bethel Independent Methodist chapel, which is still open.  
According to contemporary reports, as well as in films such as Titantic, the band and their conductor went down with the ship whilst playing Nearer my God to Thee. Not only would this hymn have calmed the nerves of many a frightened passenger, it would have prepared the 1500 souls who perished in those icy waters for the summons to judgement they were receiving.
Those 1500 expected to arrive in New York, but they never did. They may have expected sufficient lifeboats to effect their rescue, but in this too they would have been disappointed. That night, their Creator demanded back their souls. They knew not the day or the hour, and neither do we.
I urge who ever reads this to prepare for the summons. The first line denotes your need, the second the means.
Nearer, my God, to Thee, nearer to Thee!
E'en though it be a cross that raiseth me,
Still all my song shall be, nearer, my God, to Thee.
Refrain
Nearer, to Thee,
Nearer to Thee!
Though like the wanderer, the sun gone down,
Darkness be over me, my rest a stone.
Yet in my dreams I'd be nearer, my God to Thee.
There let the way appear, steps unto Heav'n;
All that Thou sendest me, in mercy given;
Angels to beckon me nearer, my God, to Thee.
Then, with my waking thoughts bright with Thy praise,
Out of my stony griefs Bethel I'll raise;
So by my woes to be nearer, my God, to Thee.
Or, if on joyful wing cleaving the sky,
Sun, moon, and stars forgot, upward I'll fly,
Still all my song shall be, nearer, my God, to Thee.
There in my Father's home, safe and at rest,
There in my Saviour's love, perfectly blest;
Age after age to be, nearer my God to Thee.
This YouTube video is a rendition, the solemnity of which may have been shared by those poor souls who went down with their ship: https://www.youtube.com/watch?v=rwLl5nY5WPI