When I Tread the Verge of Jordan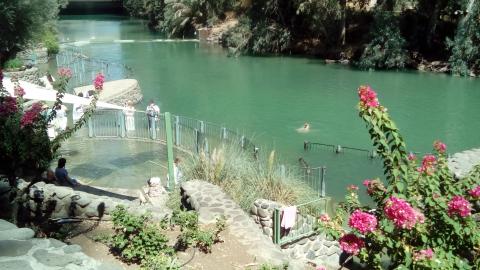 When I visited the Yardenit, by the Jordan, this year, I observed a friendly family from Illinois availing themselves of the waters thereof, and being baptised. They were happy for me to watch and take photos, only expressing surprise that I knew where Illinois actually was. I was a little amused to see them respond to the fish who came to nibble at their feet, momentarily distracting them from the business in hand.
There's quite a little baptism industry at the Jordan. For a small fee, you can hire towels and white gowns. A large photo board showing Christian celebrities, country music singers and American Congressmen from the Midwest, offers the place some international recognition from the Christian world. The large shop next door sells all manner of merchandise; its website claims that $85 bottles of pomegranate port and $9 bottles of Holy Jordan River Water are its most popular lines. Commercialism and naff trinkets aside, the place is a peaceful haven from the excessive heat and dust of Galilee. Maybe I was tired from a long day's touring, but I found this to be one of the most tranquil and pleasant places in the holy land. 
It reminded me of William Williams' 1771 hymn Guide me O Thou Great Jehovah, which uses the Jordan as imagery for a peaceful death. Although the thought of crossing such a river fills the soul with apprehension, God Himself will part the waters so His saints can complete their final leg in peace.
When I tread the verge of Jordan 
Bid my anxious fears subside; 
Death of death, and hell's destruction, 
Land me safe on Canaan's side; 
Songs of praises, songs of praises, 
I will ever give to thee.