Yea, though I Drive Through the Valley of the Shadow of Weets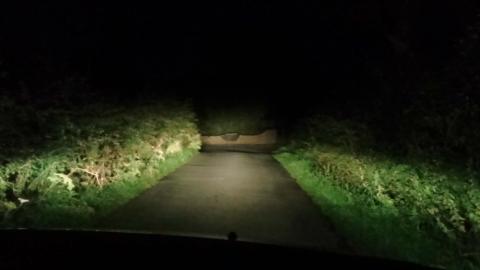 There are two ways to get to Salem Chapel from Barnoldswick. The long way, via Gisburn, and the direct route following the old Roman road. Unfortunately, the latter, though quicker and shorter, is a single-track lane. I did once count the passing places, including the unofficial ones, and came to 61. Nevertheless, I have proved less daring than other church members by generally avoiding this route before dark.
This may seem counter-intuitive. It is easier to drive during the day time; one may see what is ahead and respond accordingly. This route also offers the benefits of fantastic scenery. But not for me. Now the nights are drawing in, I drove back along this ancient lane on Thursday after our Bible study. So why do I make this choice?
Despite its Roman origin, there are several blind corners and steep hills beyond which one cannot tell if other vehicles are coming. At night, you are forewarned by the beam of their lights. During the day, your warning comes when they are fifteen yards in front of you.
It is also for this reason that one may travel faster. On the straightest section I can reach excess of 50 mph; during the daylight, my speed is unlikely to achieve much past 30.
After dusk, the stunning views of Bowland and Craven cannot distract you with their siren calls. Your eyes only look where your headlights shine- straight ahead.
The road is quieter. The daytime affords the local farmers the opportunity to race up and down the lane to gather their hay in between the inevitable showers. The chances of having to reverse 200 yards to a passing place to let pass a huge tractor is considerably reduced.
So why am I saying all this? I'm not here to offer motoring tips, though I do, like 90% of the population, consider myself a better-than-average driver, and would be only too pleased to give further instruction. No, this old lane is an apt picture of the Christian experience. All too often, the Lord allows us to slip into dark periods in our lives; times when troubles come close to overwhelming us, times of doubt and insecurity, times of perplexity. Yet it is during these periods when our spiritual growth is at its most rapid, our propensity for distraction is most limited and we are least likely to be delayed while people going in the opposite direction come our way.  
Oh, it's true that some people won't drive at all during the dark, and others have crashed and come to sticky ends. But we are sometimes called to go through the valley of shadow, not because our Lord enjoys our discomfort, but because our journey home is made all the better.
Thy word is a lamp unto my feet, and a light unto my path. Psalm 119:115
Yea, though I walk through the valley of the shadow of death, I will fear no evil: for thou art with me; thy rod and thy staff they comfort me. Psalm 23:4
Notice, on the picture (not taken whilst actually driving, I hasten to add) the sharp 90 degree corner ahead, and the broken wall into which a disracted driver recently collided.