What is in your wardrobe?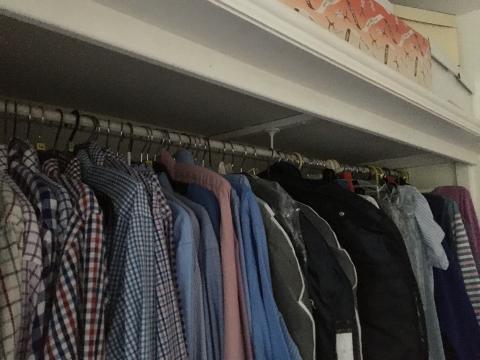 What is in your wardrobe?
Sadly, I do not possess my own personal wardrobe; simply two rails, one higher and one lower, shared uncomfortably with a large collection of my husband's apparel. All the garments are exposed – not hidden by doors or curtain but ready to be put on.
In the Old Testament the prophet Isaiah, in chapter 52:1, called out to Zion who has fallen asleep whilst holding the opinion that it is God Himself who has fallen asleep. "Wake up!" he calls, "Get dressed!" God prepared two garments for her to wear: strength and beauty. Zion was to be a kingdom of priests and they needed to get on with their job.
I, too, need reminding to wake up from my lethargic state and be alert to spiritual life with all its possibilities. Every day there is a garment of strength available for me and all believers in Christ, to put on – the whole armour of God (Ephesians 6:13.) 
The belt of truth – of doctrine and heart integrity
The breastplate of righteousness – our standing in Christ
Feet shod with preparation of the gospel of peace – ready for service for God
The shield of faith – to quench the fiery darts of Satan
The helmet of salvation – God's great gift to us
The sword of the Spirit – the word of God
We, like the priests of old, also have beautiful garments to wear:
'…put on the new man who is renewed in knowledge according to the image of Him who created him… put on tender mercies, kindness, humbleness of mind, meekness, longsuffering…put on love, which is the bond of perfection.' Colossians 3:10-14 
All this is done by 'putting on Christ' (Romans 13:14); and as the old hymn adjures, 'each piece put on with prayer'.  
So, let's wake up and get dressed!