Alan a Dale Abbey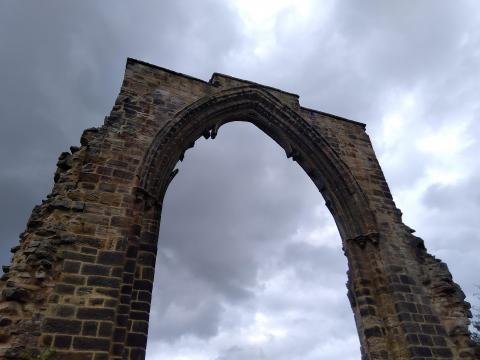 My Derbyshire cousins and I visited the site of Dale Abbey not far from their home towards summer's end. There is even less of it than what remains of most abbeys- just one large chancel window and a thick wall, now part of a house. According to the ballad, it was here that Alan a Dale, the minstrel of Robin Hood's band of merry men, wedded his sweetheart after saving her from marriage to a 'grave old knight':
And thus having ended this merry wedding,
The bride lookt as fresh as a queen,
And so they returnd to the merry green wood,
Amongst the leaves so green.
The song only goes back to the 1650s, so Alan a Dale's wedding is unlikely to be based upon any factual event from the time of a real Robyn Hode. Like the ruined abbey, we know that all marriages end- by death if not by divorce. What was once beautiful and fresh becomes fallen and decayed. Yet when the Lord Jesus declares Himself the Groom, and we, the Church, His bride, we have a marriage not just made in heaven, but the actual marriage to which all other human relationships were intended to point: the harmonious union between Saviour and saved, Creator and created, God and human.
For as a young man marrieth a virgin, so shall thy sons marry thee: and as the bridegroom rejoiceth over the bride, so shall thy God rejoice over thee. Isaiah 62:5