Bicentennial Poem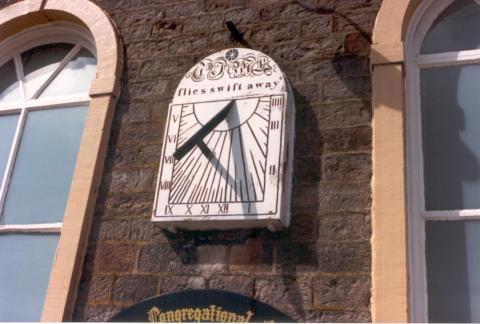 Salem Congregrational Chapel
Martin Top, Rimington
1816 – 2016
The ancient sundial tells us that
"Time flies swift away"
And two hundred years have brought us
to this very special day.
A day of glad rejoicing – of Thankfulness
and praise;
we meet in fellowship and love -
our hearts and voices raise.
In days long gone, men heard the call
To spread the Word of God
and many a lonely track way
and weary mile they trod.
Gathering people about them –
inspiring their faith anew
the seeds of that awesome vision
rooted and strongly grew.
They longed for a chapel – a permanent home
so a piece of land was found
and soon there arose this sacred place
secure upon Holy Ground.
Above the pulpit, high and clear
they placed this fervent prayer
the words still echoing down the years
to all who worship here.
"These walls we to Thine Honour raise
Long may they echo to Thy praise
And Thou, descending fill the place
With choicest tokens of Thy grace."
And many an eloquent preacher, keeping
Faith with those long gone
has kept alive the Gospel-flame
and passed the message on.
And still, the little organ with
sweet, harmonious note,
blends with the fervent singing
sounding from every throat.
Two hundred years at Salem!
Historic records tell
of families, friends and ministers –
all served this Chapel well.
Through changes and life's uncertainties
they gave of their very best
and here in the tranquil churchyard
many have found their rest.
So may God's richest Blessings
Surround our chapel we pray
Look back with Thanksgiving
and forward with Hope –
as "Time flies swift away."
Christine Thistlethwaite, 2016