Are You An Atheist?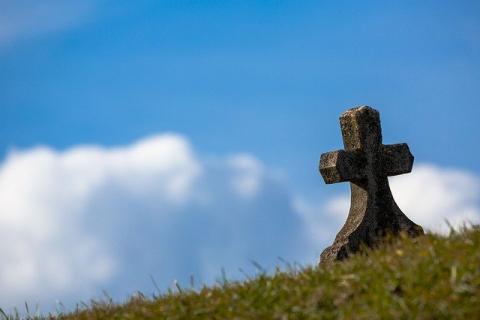 By RAC
Are you an atheist? I've got a joke for you. It's very short, so I'll tell it three times. It's the same joke, but don't worry, it'll be different every time. Here we go.
"When an atheist dies, what do you put on his headstone? All dressed up and nowhere to go!" The first time round it's funny! Do you get it? You're an atheist. You die. Your body goes off to the undertakers. They pump it full of preservative, make it up, and dress it up. You'll look better dead than you did when you were alive! You'll look like you're going somewhere special! But you aren't, are you? They're going to dump you in a damp hole or burn you in an oven. And that's the end of you.
That's death for the atheist – and this is how he lives: he spends his life getting all dressed up, and then there's nowhere to go.
The atheist might have lived his life for profit. He might have got busy, gone up in the world, and gained all of the glittering prizes. That's impressive! Ask anybody who's ever done it – it isn't as easy as it sounds. When man fell into sin in the garden of Eden, there were serious consequences. One of them was this: God said, "By the sweat of your face you shall eat bread". (Gn.3.19) No gain without pain. But then? You come first in the rat race and you're still a rat, and then you're a dead rat! Whether you believe the Genesis account or not, you know that work, age, decay, and death will take their toll. "By the sweat of your face you shall eat bread, till you return to the ground, for out of it you were taken; for you are dust, and to dust you shall return." (Gn.3.19)
Then again, the atheist might have lived his life for quite another purpose. He might have made his mark in politics or public service, or in the arts or the sciences. Andy Warhol once said: "In the future, everyone will be famous for fifteen minutes." It isn't much more than that now for the great and the good. Ask the next person you meet to tell you all they know about Winston Churchill. It won't take them long! Ecclesiastes tells us of a man who lives wisely and well; but that man comes to this bleak conclusion: "What happens to the fool will happen to me also. Why then have I been so very wise?" (Ec.2.15) "How the wise dies just like the fool!" (Ec.2.16)
And then again, the atheist might have lived his life for pleasure, going all out for his own gratification. He might have "lived life to the full" as they say at funerals, when what they really mean is: "he was a self-centred, self-serving so-and-so. He didn't give a damn about anybody else, and we're glad to see the back of him, but we don't want to speak ill of the dead." The writer of Proverbs puts it plainly: "There is a way that seems right to a man, but its end is the way to death."(Pr.14.12)
It's a joke at the atheist's expense. You invest all that you have, for the whole of your life, and all you get at the end is a handful of dust or an urn filled with ashes. No result, no return, nul points!
Now let's tell it again. Here we go.
"When an atheist dies, what do you put on his headstone? All dressed up and nowhere to go!" The second time round, it isn't funny. Think of all the things that he's never had, the things that he could have enjoyed in this life and forever. You can "live life to the full" and still be a dead man walking, dead to many blessings. The bible says that the man who doesn't know God is "dead in … trespasses and sins". (Ep.2.1) Here are just three of the things he's missing out on.
Firstly, he could have had a God in heaven. Atheists are often proud people: "I don't need a big, scary father-figure telling me what to do!" But the fear of God is no bad thing. Christ Himself says: "fear Him who can destroy both soul and body in hell." (Mt.10.28) The Psalmist says: "The fear of the LORD is the beginning of wisdom". (Ps.111.10) The getting of wisdom is when God reveals to us "that He gave His only Son, that whoever believes in Him should not perish but have eternal life." (Jn.3.16) My earthly father was a fine man, and I miss him now that he's gone; but my Father in heaven lives forever, to comfort me and care for me, now and throughout all eternity.
Secondly, he could have had a guide through life. The self-help industry is big business in Britain today. Bookshops are full of guides to living the good life, and reality TV is mostly about sad souls looking for fulfilment and failing to find it. People want a better life, but what really works? You hear about the next big thing, you buy it, you try it, it doesn't deliver, you move on, and on, and on. The man with God as a guide has two great advantages: the infallible and unchanging word of God, the bible, and the gift of God's Holy Spirit to give him understanding. The Psalmist proclaims: "Your word is a lamp to my feet and a light to my path." (Ps.119.105) Jesus Christ promises: "When the Spirit of truth comes, He will guide you into all the truth". (Jn.16.13)
Thirdly, he could have had a good reward. I don't mean money. If you're in a church that's always asking you for your money, then you need to take steps – straight out of the front door. If they're preaching the so-called Prosperity Gospel, then the chances are good that you're keeping company with liars, thieves, and cheats.  "For what will it profit a man if he gains the whole world and forfeits his life?" (Mt.16.26) God does not take cash, cheques or credit cards in exchange for eternal life. Instead He offers GRACE – God's Riches At Christ's Expense, God's Redemption At Christ's Expense. Paul says: "the same Lord is the Lord of all, bestowing His riches on all who call on Him. For 'everyone who calls on the name of the Lord will be saved.'" (Ro.10.12-13)
This is sad: the atheist has lost his life and he's lost all that he invested in that life; and he's lost the good gifts that God would have given him. These are precious things, and he has never had them for his own.
The second time round, the joke isn't funny at all. But still, I'm going to tell it one more time. Here we go.
"When an atheist dies, what do you put on his headstone? All dressed up and nowhere to go!" The third time round, it isn't funny and it isn't even true. Imagine the atheist on his death-bed. What if he changes his mind, in the last few minutes of his life? After all, he's had the evidence of creation: that speaks of a creator. He's had the evidence of his conscience: that speaks of a God who gives man a moral sense, and a God who judges what a man has done. He's had the evidence of his comprehension, his understanding. His heart knows that history is not really a series of random happenings, but he cannot work out what it's all about, all by himself. As Solomon says, God "has put eternity into man's heart, yet so that he cannot find out what God has done from the beginning to the end." (Ec.3.11) Somewhere deep in his heart, he knew the truth, and yet he chose to suppress it his whole life long. And now he is beginning to sense what the bible said so plainly, centuries ago: "It is a fearful thing to fall into the hands of the living God." (He.10.31)
Perhaps some half-remembered rhyme from an earlier age gives him hope: "Jesus loves me, this I know, for the bible tells me so…" Does that mean you, personally? The bible says that "God is angry with the wicked every day." (Ps.7.11) "But I'm not the wicked! I've done good things! That'll make me right with God!" All dressed up and ready for heaven? Not really. According to Isaiah 64.6: "all our righteous deeds are like a polluted garment" – like filthy rags – no passport to paradise there.
"But God is love! He's got to have mercy on me!" Not really. Mercy doesn't mean letting the guilty go free. God is a God of justice, and sin must be punished, and it is – it's punished either in you yourself, or in Christ on the cross at Calvary. It's the one or the other. And when did you ever ask Him for forgiveness, believing that He took your punishment in His own person? When did He ever become Lord of your life?
"But dying might be just like falling asleep. Maybe it's just nothingness, non-existence, if I don't believe in God!" What? All dressed up and nowhere to go again? Not really. You sleep, but then you wake. The bible declares: "it is appointed for man to die once, and after that comes judgement". (He.9.27) And the verdict is already in, if you die without Christ. In the Old Testament: "the LORD will by no means clear the guilty." (Na.1.3) In the New Testament: "for all have sinned and fall short of the glory of God". (Ro.3.23)
Perhaps there is almost something to admire about the devout atheist. After all, it must take a great deal of faith to hold fast to this false religion, to refuse to believe in God, to trust entirely to yourself, now and forever. But I don't envy the atheist. All dressed up and nowhere to go? Not really. You're on your way … and you won't like it when you get there. The bible pictures hell as a place of pain and suffering, where there will be weeping and anguish and infinite regret, and from which there will be no return.
We started with a joke, but the end of all this is deadly serious.
The bible declares clearly that Jesus Christ is Almighty God in human form: that is, the eternal God stepped out of heaven two thousand years ago in the person of Jesus Christ; He came to the Earth, born of a virgin; took to Himself a sinless human nature; and He lived on Earth for thirty-three years before He died; and He never sinned.
He did not deserve the penalty for sin, which is death – so that when He was dying on the cross, He was not dying for His own sin, He was dying as a substitute for all those who will come to believe in Him, and only them; and He paid for all their sins.
He was raised from the dead, bodily, on the third day; He ascended to the right hand of His Father and He sat down, having done everything necessary to save sinners like us; and He sends forth His Word, the Gospel, in the hands of His Holy Spirit, and He calls sinners to Himself.
 And if this day you will admit the truth, God's truth about you – that you are lost, that you cannot do one thing to save yourself, and that Jesus is your only hope, the only Saviour, the only name given among men by which we can be saved; then, if you will look to Christ with the eyes of faith, He will save you.
I would encourage you to do that today: call out from your heart, a heart broken over your sinfulness, a heart acknowledging your lost condition; call out to Christ, trusting His merit, trusting His death for the forgiveness of your sin.
Almighty God is calling to you today: "Come now, let us reason together, says the LORD: though your sins are like scarlet, they shall be as white as snow". (Is.1.18)
 Jesus promises: "Come to me, all who labour and are heavy laden, and I will give you rest." (Mt.11.28)
 His words will stand the test of time and eternity: "All that the Father gives me will come to me, and whoever comes to me I will never cast out." (Jn.6.37)
Image by Gábor Bejó from Pixabay