12 Lies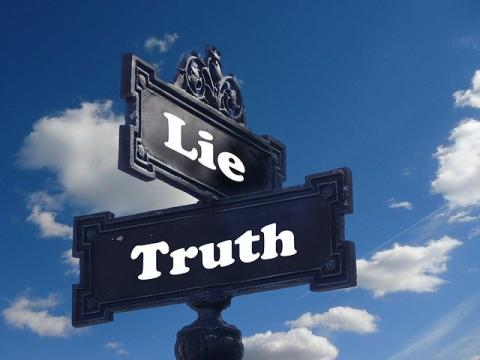 Don't allow yourself to be deceived. The devil is 'the father of lies' but Jesus is the Truth.

Live as you please. So long as no-one else gets hurt, you're not doing anything wrong.
Isaiah 5:20: Woe to those who call evil good and good evil, who put darkness for light and light for darkness, who put bitter for sweet and sweet for bitter!
All religions lead to God- so long as you're sincere, it'll be alright in the end.
Acts 4:12: Neither is there salvation in any other: for there is none other name [ie Jesus Christ] under heaven given among men, whereby we must be saved.
If something 'feels' right, go ahead and do it.
Proverbs 14:12: There is a way that seems right to a man, but its end is the way to death.
The universe, the earth and life just started by chance.
Colossians 1:6: For by him all things were created, in heaven and on earth, visible and invisible, whether thrones or dominions or rulers or authorities—all things were created through him and for him.
Everyone who claims to be a Christian will be admitted to heaven.
Matthew 7:21-23 "Not everyone who says to me, 'Lord, Lord,' will enter the kingdom of heaven, but the one who does the will of my Father who is in heaven. On that day many will say to me, 'Lord, Lord, did we not prophesy in your name, and cast out demons in your name, and do many mighty works in your name?' And then will I declare to them, 'I never knew you; depart from me, you workers of lawlessness.'
Sin is just a matter of opinion, just a question of taste. There is no 'right' or 'wrong'.
Isaiah 33:22: For the LORD is our judge, the LORD is our lawgiver.
Jesus was just a good ethical teacher, a decent bloke, a man who just wanted to show us how to live, but nothing more.
John 8: 57 Then said the Jews unto him, Thou art not yet fifty years old, and hast thou seen Abraham? 58 Jesus said unto them, Verily, verily, I say unto you, Before Abraham was, I AM.
There's no such place as hell.
Revelation 21:8: 8 But the cowardly, the unbelieving, the vile, the murderers, the sexually immoral, those who practise magic arts, the idolaters and all liars—they will be consigned to the fiery lake of burning sulphur. This is the second death.
Most people are good, only a few people are bad.
Romans 3:23 For all have sinned, and come short of the glory of God.
If you're good, you go to heaven. So try your best to be good.
Ephesian 2:8-9: For by grace you have been saved through faith. And this is not your own doing; it is the gift of God, not a result of works, so that no one may boast.
No-one loves you; you're worthless.
Song of Solomon 2:4: Let him lead me to the banquet hall, and let his banner over me be love.
Get right with God when you're older- enjoy life till then.
Isaiah 55:6 Seek ye the LORD while he may be found, call ye upon him while he is near.
Proverbs 12:22: Lying lips are abomination to the LORD: but they that deal truly are his delight.
Image by Gerd Altmann from Pixabay