1816-1940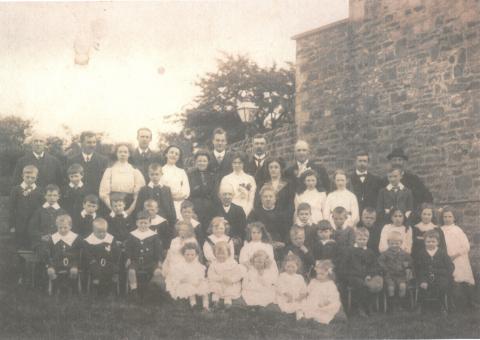 The following is the text from the new History of the Chapel written by Kathleen Scott and Herbert Moorhouse in 2016 to mark the chapel's bicentennary. Copies are available on request.
THE HISTORY OF SALEM CONGREGATIONAL CHAPEL, MARTIN TOP, RIMINGTON, Founded 1816
BICENTENARY 2016
Published by Nu-Age Print & Copy of 289 Padiham Road, Burnley, Lancs. BB12 0HA
Copyright © 2016
 ACKNOWLEDGEMENTS
Our thanks go to Mr Herbert Moorhouse for providing his more recent memories of the chapel fellowship, to Mrs Kathleen Scott for assembling and typing this book and to David Scott for putting it into computer form and to all those who have provided information following appeals for help.
Foreword
"The village was the true home of nonconformity."
Congregationalism grew up in small villages in the first half of the nineteenth century. It was long years before chapels were built in large towns. There was a set pattern to the opening of new chapels: Open air preaching by itinerant preachers followed by hiring of Meeting Rooms and finally the building of a Chapel.
Martin Top's Chapel history did not begin on the day the chapel opened in 1817. The first seeds of a dissenting denomination at Martin Top were sown by itinerant preachers speaking to local people, many of whom were poor, illiterate and superstitious. Encouraged by the Word of God, villagers began to meet regularly to hear His Word. At first this meant the hiring of a Meeting Room and finally the building of a Chapel.
 In the Beginning
"Martin Top" was the name of the farm where the first Meeting Room was and not the name of the district. The origin of the Meeting Room was due to Rev George Partington of Colne. From 1810 he preached regularly at Martin Top Farm and at the houses of William Hargreaves of Newby and William Bulcock of Twiston in Henry Dean's barn and in Newby Schoolroom.
Other itinerants preached at Martin Top Farm – among them were Henry Driver and William Hudson.
Rev George Partington
The Rev George Partington writing in 1814 of Martin Top Farm said:
"We have today opened a place for public worship which people have fitted up and seated at their own expense. It is nearly equal distance from those three places at which I have preached once in the month for a considerable time – Twiston, Newby and Gill. This neighbourhood has been one of the most destitute and barren, perhaps, in the circuit".
To help to form the church in the farmhouse John Holgate, Mary Hargreaves and Elizabeth Boothman transferred their membership from Dockray, Colne to Martin Top. One member from Holden was also transferred. Supply preachers were sent from the Idle Academy, Bradford. Eventually the Meeting Room in the farmhouse became too small and new premises had to be considered. A report in March 1816 said the people of Martin Top were "as anxious to get a new chapel as bread for their families". To this end a plot of land in the south corner of a field called "Rakes" was bought for £5. 8s. 3d. It was 19 yards long and 14 yards and 1 foot broad.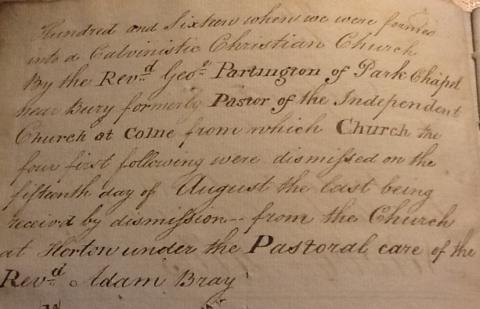 Three Local Weavers
Three local weavers worked in a small weaving shop. Unfortunately, we do not know their names. Could they be the three weavers mentioned in the Deed? One of them had the idea that twenty trustees should be found who would each lend £20.00 for three years without interest, so that the work could start on building the chapel. The estimated cost for the building work was £500.00. Twenty trustees were found.
On 11 August 1816 the Rev George Partington from Colne and the Rev Adam Bray from Horton took part in the forming of:
"The Church and Congregation called Independents Assembling in Salem Chapel, Newby Hills. The members at the time being Calvinistic in their Creed".
The Deed instructed that:
"also permit to officiate in the said Chapel such person or persons of the Denomination of Protestant Dissenters called Independents as the said subscribers or the major part of them Men or Women being Members of the said Society and Communicants therein at a Meeting duly assembled for that purpose shall from time to time elect to officiate as their Minister or Pastor in the said Chapel according to the usual order and customs of Societies of Protestant Dissenters of the Denomination aforesaid".
The building of the chapel began in 1816 and was completed in 1817. The date of the opening can be found in pebbles on the ground at the chapel gates. These are reputed to have been taken from a local brook by Mr Richard Dean of Gazegill and remain there to this day as a beautiful historical record.
The following inscription was placed behind the pulpit on the chapel wall. The name given to the chapel was Salem.
SALEM CHAPEL 1817
These walls we to Thine honour raise,
Long may they echo to Thy praise:
And Thou descending fill the place,
With choicest tokens of Thy grace.
The Chapel Deeds
It is interesting to consider the names and occupations of those who followed the cause of nonconformity in and around Rimington in the early 1800s. All the following people are mentioned somewhere on the Chapel Deeds.
3 Ministers Rev James Scott, Cleck Heaton
Rev William Vint, Idle, Bradford
Rev Richard Slate, Stand, Bury
3 Cotton Spinners William Bond, Chipping
Samuel Westerman, Howgill
William Hargreaves,
Habergham Eaves
1 Calico Printer James Bury, Sabden Bridge
3 Farmers John Dean, Gazegill
William Greenwood, Coverdale,
Gisburn
William Taylor, Hazzle-Lane,
Long Preston
8 Gentlemen/Yeomen
John Parker, Gazegill
William Holgate, Long Preston
Samuel Holgate, Long Preston
John Singleton, Barley
Daniel Parker, Gazegill
Matthew Core, Little Bank, Giggleswick
William Tipping, Dockber
Samuel Wainwright, Thornton-in-Craven
1 Labourer John Nutter, Howgill
1 Stonemason Isaac Varley, Thistleber, Rimington
2 Worsted/ Manufacturers
John Illingworth, Bingley
Richard Ecroyd, Lomeshaye, Little Marsden
3 Weavers Richard Dean, Gazegill
Frances Holgate, Gills, Rimington
John Holgate, Gills, Rimington
1 Cotton Mfr John Atkinson, Stockport
1 Husbandman Henry Core, Newby
1 Grocer and Draper
William Parker, Burnley
1 Conveyancer James Howarth, Hethersall, Little Marsden
1 Banker Roger Cunliffe, Blackburn
1 Surgeon & Apothecary
William Sutcliffe, Settle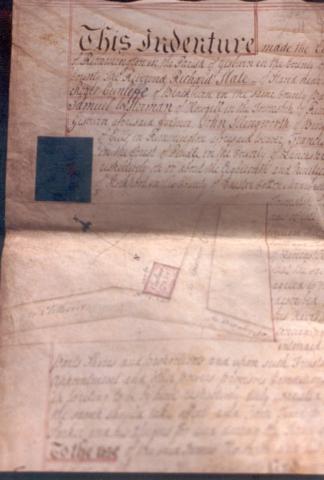 Rev Benjamin Nightingale
On 11 May 1820 a grant of £10.00 was paid to Martin Top by the West Riding Church Aid and Home Missionary Society. Rev Benjamin Nightingale was ordained at Newton on 7 November 1820 and became Pastor over three churches – Newton, Wymondhouses and Martin Top. He remained connected to Martin Top until 1826.
The First Church Members 1816
1. John Holgate, Gills
2. Mary Hargreaves, Newby (excluded for association with the wicked on 29 Dec 1818)
3. Elizabeth Boothman Senr, Rimington
4. Elizabeth Boothman Jnr, Newfield Edge
5. Christopher Holgate, Gills
6. John Nutter, Howgill
1818
7 Alice Greenwood
8. Ellen Green
1823
9. Hugh Hughs
10. Ann Hughs
11. Evan Williams
12. John Greenwood
13. Tabetha Marsden
14. John Crawshaw, Oxclose
15. Jane Crawshaw
1838
16. Richard Marsden
17. Stephen Dean
18. William Atkinson
19. Jane Atkinson
20. James Bullock
21. Judith Bullock
22. Ann Boothman
23. Elizabeth Boothman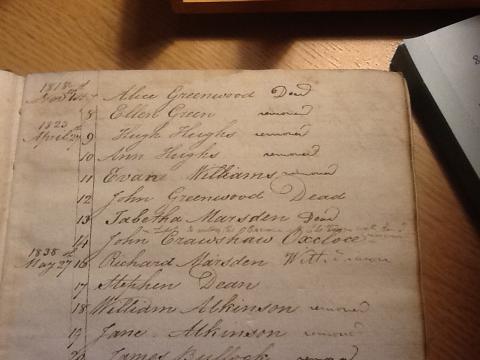 1838
24. Ann Duckworth (Died 1839)
25. Mercy Briggs
26. Richard Maudsley
27. Mary Maudsley
28. Mary Dean
The First Baptism
The first baby to be baptised at the new chapel was:-
"Mary, daughter of John Nutter and Isabella his wife, born at Howgill in the township of Rimington on 27 August."
She was baptised on 22 September 1816 by John Calvert of Grassington. Between 1816 and 1848 there were thirty two baptisms, the majority of them being baptised within two months of birth. Sunday was the most popular day for a baptism, but it was also acceptable to baptise on other weekdays too. Wednesday appears to have been the next most popular day to Sunday. However, the chapel records show baptisms being performed on every day of the week except Saturday.
Chapel Cottages
In 1836 it was decided to build two cottages at the east end of the chapel. Francis Holgate, a farmer, used his name on behalf of the Martin Top Chapel Trustees to borrow £85.00 from William Tunstall to help to pay for them. Unfortunately, his wife Alice, worried about this debt so much that "she hanged herself in a fit of temporary insanity" on Sunday 26 March 1843, before the morning chapel service.
Links with Idle Academy
Following Mr Nightingale's retirement Martin Top Church was again connected with the Idle Academy in Bradford and was supplied by students from that institution until 1837. In a report of 1837 we are told:
Rev T Greenall of Burnley
Rev R Aspinall of Colne
Rev J Wadsworth of Clitheroe
preached in rotation regularly at Martin Top on Wednesday evenings.
Rev Robert Abram
Another early Pastor was Rev Robert Abram who accepted oversight of the chapel from 1837 to 1843. Born in Southport, he was at first a Wesleyan local preacher, later joining Southport Congregational Church. He was ordained at Martin Top Chapel on 3 July 1838.
Congregation = 100
Church members = 6
Sunday School scholars = 40
Teachers = 4
His preaching stations included Todber, Hardacre Gate, Twiston, Gazegill and Stockswood. In 1843 he accepted an invitation to go to Marsden at Burnley. In 1839, Rev. Abram engaged a chapel at Gisburn, occupied by Wesleyans, where he preached once a month on Sunday evenings having a congregation of two hundred.
Rev Ebenezer Sloane Heron
The ordination of Rev Ebenezer Sloane Heron took place on 19 May 1844. He itinerated laboriously and during his five year ministry thirty members joined the chapel. He left in November 1848 removing to Denholme. No chapel suffered more than Martin Top between 1846 and 1848. Not less than eighty young people connected with the chapel left the area to seek employment elsewhere.
Rev John Dean of Blackburn
From December 1848 to March 1853 Martin Top Chapel was "supplied" once a month by Mr John Dean of Blackburn who eventually came to reside amongst us and on 5 June 1855 he was ordained to regular ministry at the chapel. He was "a worthy man and a devoted Christian" and during the following two years of his ministry fourteen new members joined the chapel. He died at the early age of 36 years on 9 January 1857 and was interred at the Independent Chapel, Holden. Following Mr Dean's death, supplies occupied the pulpit. These were mostly young men trained by Mr Wadsworth at Clitheroe.
Fervent chapel workers at that time were:-
John Dean (Deacon)
Stephen Dean (Deacon)
John Boothman (Lay Preacher)
Rev W Jowett
The Rev W Jowett became Pastor at Martin Top Chapel in 1860. He was a town missionary from Gateshead and he remained for one year until 1861 when he removed to Churchtown, Southport. According to a handwritten chapel history at this time although Mr Jowett was only at Salem for one year he helped in bringing about a new Trust Deed and because of the poor state of the finances a system of weekly offerings was to be tried. Offertory boxes were to be made and fixed on the doors as soon as possible.
The Laycock Organ
The organ was produced new for the chapel in 1867 when it was erected. The imposing casework became the main feature of the chapel interior. The instrument is free standing and is clothed in a complete pine case, framed and panelled. All the pipe work is placed upon a common sound board and is unenclosed. The cost of the organ was £80 and the organ stool was 10/- (50p). In 1870 tuning was charged at 8s. 6d per visit and 2s. 6d for travel. By 1909 the tuning was charged at 16s.6d.
1861 – 1872
After the retirement of the Rev W Jowett in 1861 the pulpit was filled with supplies until 1872 when the Rev Peter Howarth accepted a call to the pastorate.
From Lancashire to Yorkshire
In 1870 the Lancashire Congregational Union, who had been supplying aid to Salem for over 50 years, decided that as the chapel was situated in the West Riding district of Yorkshire it would be better served attached to the Yorkshire Congregational Union.
Pew Rents Register
The names of the people attending the chapel at that time can be found in the Pew Rent Register. In 1870 Pew Rents were paid by:-
Henry Grime
Susannah Jackson and Robert, Howgill
Isabella Ward
Joseph Jackson
Mrs Ann Duckworth
James Barnes
Alice Cunliffe
Sarah and Deborah Haworth, Chapel House
Grace Mangham
William Pool
Susan and Martha Briggs, Woffendale
Richard and Alice Barnes
John Jackson, Smithy Fold, Twiston
James Greenwood, Ings End
Sarah Hayhurst, Ings End
William Bolland, Martin Top
Bernard Harrison
Richard Frankland and family
Thomas Cook, Howgill
Mary Ann Cook
Henry Boothman
Stephen and Mary Dean, Rakes
John Dean and family, Higher Gills
James and Mary Moorby, Twiston
Miss Whipp, Ann Maria, & R Watson, Twiston
William and Mary Oddie, Ox Close
John Bulcock and family, Twiston
Charles Frankland
Elena Wiseman, Twiston
James Wiseman
Jonathan Boothman and wife
Betty Taylor
James Taylor
John Atkinson
The Pew Rent Register reveals that between 1870 and 1879 there was an average of 56 members at Martin Top Chapel annually. Some of the most well documented information regards the Pew Rents and according to the Chapel Minutes of 1870/71:
"the seats in this chapel will be re-let to present holders of sittings or others wishful of taking at the charge of one shilling and sixpence (1/6d) per seat Quarterly and to be paid for Quarterly and that notice be given by announcement from the pulpit on Sunday next, that any person or persons wishful of taking sittings or of retaking present holdings may do so by applying in the chapel on Wednesday evening that envelopes be got and used for the purpose of receiving the seat rents and Quarters subscriptions to be placed on the seats of the seat holders on the Sunday proceeding the Sunday upon which the Quarterly collection will be made."
Rev Peter Howarth
The Rev Peter Howarth from Clough Foot came to reside amongst the people at Salem in 1872. At this time the neighbourhood was about at its best, for having many people and plenty of work for them. There were lead mines at Ings End, the mill at Twiston, also one at Howgill and one at Newby. During his ministry the cotton mill at Twiston burnt down and Mr James Moorby, the cotton manufacturer, who employed forty four people, his wife and his niece, Annie Parkinson, a scholar and many of his workers moved away from the district. So many of these people had been generous supporters of the chapel and some had been Sunday School teachers. This was a difficult period for Martin Top Chapel and for the next seven years there was no minister. Rev Howarth left in August 1875.
1875 – 1882
From the time of Mr Howarth's leaving to the early part of the year 1882 Salem was again without Pastor and had to resort to supplies, among these were the Rev D R Hamilton, to whom an invitation was given to become their minister and he accepted.
Rev D Russell Hamilton
The Rev Russell Hamilton succeeded Mr Howarth in 1882 and remained at Martin Top Chapel until 1884. According to a local diary he preached his farewell sermon on 23 March 1884.
Stephen Dean
In early life Stephen Dean became a member of Salem Church and was for many years a Deacon. His life was one of Holy simplicity and sacred zeal and he consecrated his life to the will of God. He died on 11 March 1883 and a marble tablet was erected in his memory by the members and friends of the chapel.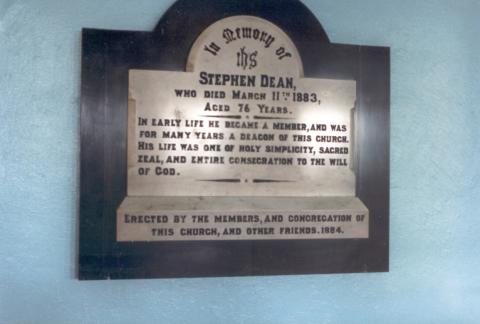 Student Ministry
Because of the difficulties of finding a new resident minister during the Summer vacation of 1886 the chapels at Horton and Martin Top arranged for a student minister to take oversight of both churches under an arrangement with the Yorkshire Congregational Union. That student was Mr J Loosemore. The following Summer Mr W Mitchell was the student minister, but the arrangement did not work as well as in the first year.
1887 – 1896
For the next nine years the church had no Pastor and it lapsed into a very low and weak state.
Band of Hope
The united Bands of Hope at Stopper Lane and Martin Top held a tea party and demonstration in September 1889. About 250 people sat down to tea and subsequently a procession was found which paraded through the villages including Rimington. After the procession a public meeting was held presided over by Mr Robert Watson of Twiston and was addressed by Messrs Tomlinson, Heyes and others. This was the most successful demonstration held for years. These demonstrations became an annual event being shared between the Congregational Chapel at Martin Top and the Wesleyan Chapel in Stopper Lane.
Benjamin Nightingale described Martin Top Chapel in 1891 as follows:-
"It has two doorways, is well lighted inside by lamps which are suspended from the ceiling; is painted green; and the pews which are the deep, straight backed kind, rise in tiers so that those behind can see just as well as those in front. The pulpit is fixed against the wall which faces the road, in which is a smaller recess for the minister.To the left of the pulpit are a small organ and the singing pew. There is sitting accommodation in the chapel for 240 persons. There is no burial ground attached to the chapel, the people taking their dead to Gisburn. On its front is a sundial and adjoining it is a small cottage, formerly the minister's house. At Newby, a little distance away is a Day School which is jointly owned by the Wesleyans and the Congregationalists."
Other descriptions also tell us:-
"The pulpit was straight up. There was a box pew at the front around the pulpit. There was a stove under this pew. Heat from it came up into the chapel through grids in the floor."
Miss Broughton
In 1895 Miss Broughton was appointed Lady Deaconess with the approval of the Yorkshire Congregational Union. Her special gift was ministering to the sick, the elderly and the needy. Eventually she married Mr Veevers and moved away. Although she moved away she asked to remain a member of Salem and paid occasional visits to the chapel.
Mr W H Duerden
Mr Duerden of Colne moved to Martin Top Chapel in 1897 although it was not any easy thing for him to do and he remained until 1913. He was said to have been "a true Christian for something in his life reminded you of Christ." He had to tear himself away from his church at Colne, where his father and brothers had been the founders. His calling was submitted to the executive of the Home Missionary Society for approval and they visited Salem Martin Top to see how the church was getting on. Two visitors from the executive of the Home Missionary Society inspected the premises and said to Mr Duerden the place needed some improvements and suggested a series of alterations, the cost of which they thought would amount to about £70. They further said that if the chapel would take up the scheme the Society would give them £5 towards it. The members of the chapel did not think that they could raise any money but said if Rev Duerden could it would be alright. The pastor wanted everyone to try to raise the money and some circulars were printed for members to encourage people to give by subscriptions to the "Restoration Fund". By the time Christmas came the members had not been successful in raising any money but Rev Duerden had been successful in raising about £40 and this stirred the members to try again. This proved most successful and by the Spring of 1898 they were in a position to accept a tender from Mr John Wiseman contractor of Colne for £180 and a tender from Messrs J & J Hey, painters of Colne for £32.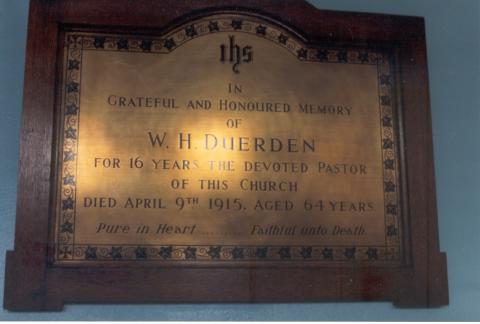 The Chapel Renovation
After the Sunday School sermons on 21 June 1898 the chapel closed and the whole of the interior of the chapel was taken out, the pews, the pulpit, the floor, etc. etc. and was refurnished with a new pitch pine interior throughout with the addition of two new vestibules and a minister's vestry. The minister's house was also renovated and the cottage behind, which now serves as a Sunday School room and for fellowship meetings. The total cost was £328. 13s. 1d. The re-opening services were held on Sunday and Monday 4 and 5 September 1898.
When Mr Duerden left Martin Top Chapel he moved to Barrowford. He was not a very well man and had poor eyesight. He died on 9 April 1915, as a result of a motor accident. He was crossing the road at Barrowford and was knocked down by a car. There is a brass plaque in the chapel dedicated to his memory.
Annual Church Meeting – 9 January 1900
The Secretary, Emma Stott, who was admitted into membership in 1886, reported that Martin Top Chapel was in a very prosperous way spiritually – though we have lost some of our congregation."
Easter Sale of Work 1901
During the year 1901 Salem had a sale of work at Easter to raise enough money for a new Trust Deed and for concreting the chapel yard and the garden walks in front of the minister's house. This was very successful and it enabled members to purchase timber and cotton to cover the Chapel yard which could be fixed up and removed as required for special occasions. There was still a surplus remaining which allowed the cementing of the west end of the chapel at a cost of over £12.
A New Trust Document
A new Trust document was deposited with the Deeds in Manchester and the new Trustees appointed were:-
Mr Duerden
J Banks
Thomas Dean
J Stott
J Grimshaw
Henry Grimshaw Jnr
Mrs Fort Jnr
R W Watson
J Porter Jnr
R W Bulcock
Mr Porter
The First Wedding
The first wedding took place at Martin Top Chapel on 20 April 1904 between Miss Hannah Perry (an old scholar) of Gisburn and Mr Albert Lawson of Hey House. Both were employed by Mr R Illingworth of Hey House Farm, Downham. Pastor W H Duerden officiated assisted by the Rev A Baxter of Clitheroe. A Bible and hymn book was presented to the bride and bridegroom by Mrs Robert Watson on behalf of the church. At first there were few marriages because sons and daughters followed the custom of being married at the Parish Church of St Mary's Gisburn – the place where their parents had married.
The second wedding at the chapel did not take place until 24 May 1906. The two people married were Miss Isabella (Bella) Parkinson and Mr William Anthony Jackson of Wytha, by the Pastor.
Musical Instruments
In 1905 it was proposed that the chapel fiddle stop at the house of the Treasurer, Mr Robert Watson. A meeting was arranged on 29 March 1905 to raise some money to clear the debt of the harmonium which had been bought at a cost of £7. 5s. 0d.
Salem Chapel in 1906
The handwritten chapel history gives us a glimpse into the situation at Salem Chapel in 1906:-
"Those who sit down with us at the Lord 's Table are nearly all fresh ones from those who were sitting there nine years ago, a good part of the congregation is new and the school is very much changed. There has more gone away than there were in the school at that time and still our Sunday School has grown and also our congregation while the membership of the Church is nearly three times as large as then.
To God be all the praise and may the days to come bring greater Glory to His Name than those of the past and we trust that many more will yet be led to rejoice that ever they heard the Gospel of Christ preached in Salem Chapel, Martin Top." June 22nd 1906.
The Opening of the Burial Ground
On 6 February 1906 a resolution was passed to raise money for a graveyard. A committee met to plan and arrange the chapel burial ground. They were:-
Rev W H Duerden
Mr J Banks
Mr R W Giddings
Mr R W Bulcock
In May 1907 land was purchased from Mr John Parker of Colne and the Title Deed of the Graveyard was deposited along with the Chapel Deed in the Lancashire Independent College, Manchester. The burial ground was opened on 18 April 1908 by James Nutter, JP, of Barnoldswick. Mr J H Dickinson of Ormskirk presided and Mr J Thornber of The Knoll, Clitheroe, presented Mr Nutter with a silver key in the name of the church.
Mr Robert Watson
Mr Robert Watson was a deacon and a member of the chapel for over fifty three years. He died on 19 February 1909 and was the first person to be buried in the new graveyard on 24 February 1909. The following is an extract from the Yorkshire Congregational Year Book for 1910:
"The "Extension Scheme" includes a burial ground, new Sunday School and improvements to the Manse, involving an outlay of over £462. The new Sunday School is built up to the Church, on the easterly side, both standing on the southerly side of the Burial Ground. These with the Manse (which has been properly restored) form a nice suite of buildings for Nonconformity in the extreme border of the West Riding of Yorkshire in the township of Rimington. Our people have worked hard in various ways and you will not wonder that a thrill of intense joy ran through the audience when the pastor (Rev W H Duerden) rose and announced that £55 had been raised to pay off the last £50 owing."
Opening of the new Sunday School
On 1 August 1908 a start was made on the new Sunday School building. The cost of the extension scheme amounted to nearly £450. On 10 April 1909 it was opened by Mrs W Hough, the Mayoress of Burnley and Mr W Hough the Mayor presided. Miss Landless of Brierfield presented the mayoress with a silver key on behalf of the chapel members and the Sunday School scholars.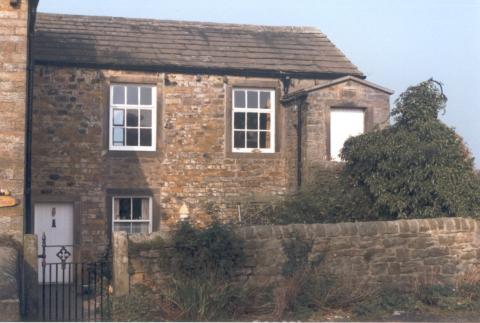 Acetylene Gas
During the month of March 1909 acetylene gas was installed in both chapel and school. The first public service with the new light was held on 14 April 1909.
1910 - 1911
In 1910 seven new members joined the chapel. They were:
Mrs Wilkinson of Twiston
Kate Robinson of Gazegill
Miss Nancy Braithwaite of Howgill
Mrs Ruth Blackburn of Howgill
Miss Jane Heaton of Howgill
Mrs Annie Heaton (Senior) of Newby
Miss Martha Emmott of Higher Gills
The members installed a new stove and bought a new table for the Sunday School. Individual communion cups were introduced.
In 1911 four new members joined. They were:
Mr John Parker of Middop
Mr & Mrs George Parker of Myrvel House, Howgill
Miss Parker of Little Middop
Mr Louis J Malkinson
On the 25th May 1913 Mr Louis J Malkinson of Boston, Lincolnshire was appointed Pastor at Salem to succeed WH Duerden. He and his wife stayed until 1918 having accepted a call to Settle. She organised a choir and both were very interested in the Sunday School. United services were held arranged with the Stopper Lane Wesleyan Chapel.
1914
The following ladies became members of the chapel on 22 November 1914:
Mrs Malkinson
Mrs Giddings
Miss Rachel Dean
Mrs Elizabeth Bratherton, Newby
Mrs Nelson
1915
The church was decorated and re-opened in May 1915, followed by the renovation of the Laycock organ when a new Dulciana stop was added.
1916-1917
In 1916 it was decided to construct a doorway between the chapel kitchen and the manse. In 1917 Mrs Moore became a member of the chapel.
The New Communion Table and Chairs
The new communion table and chairs, given by the members of the church and congregation, as a memorial to old scholars, who gave their lives in the Great War of 1914-1918, were uncovered and used for the first time at the Chapel Anniversary on the 10 August 1919. The cost of the table and chairs was £12. 8. 6d. On the front of the table are the names of four Sunday School scholars who gave their lives defending their country:-
John Parkinson John Carr
James Braithwaite John Atkinson
The Chapel Centenary
The chapel centenary was celebrated on Whit Sunday and Whit Monday 1917.
A special booklet was produced entitled "A Garland of Fair Flowers" containing the names of members and friends of the chapel together with short poems and quotations.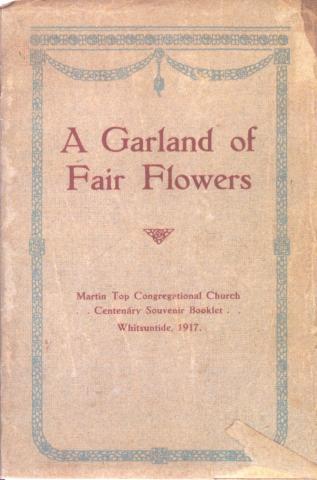 Over the two days the following people took part in the proceedings:
Rev L J Malkinson
Rev A Duff MA, DD (Preacher)
Rev L H Gaunt MA of Skipton
Rev J Warwick Johnston of Clitheroe
Rev J Loosemore of Blackburn
Mrs Watson
Mrs Stott
Mr F W Hill JP of Thornton, Bradford
A Sale of Work was held at the centenary and Mr Malkinson helped the ladies to set up a social circle at which the ladies made items for the sale.
Rev G H Vickers
Rev G H Vickers came to Martin Top in 1918 following two years in France on YMCA Army work. His recognition service was held on 19 August 1918. He stayed at Martin Top Chapel until 1925 when he removed to Thornaby-on-Tees.
Rev James Brown
The Rev James Brown from Newton-in-Bowland became the minister at Martin Top Chapel on Sunday 7 March 1926 for nine months entering into rest on 25 December 1926.
Rev David Hartley
Rev David Hartley of Colne became minister in 1928. He was requested by the members of the church to preach on the first Sunday in January 1928. He came again on the third Sunday of the same month. During the following fortnight he received a letter from Mr Thomas Ridehalgh, in which there was a letter from Mrs Stott of Brownlow asking him to consider a call from the church at Martin Top. Mr Parker one of the deacons and the secretary of the church visited him at home where he asked Rev Hartley if he would become the minister at Martin Top explaining that there had been a unanimous request from the members for him to become their minister.
Rev Hartley accepted the call without realising that he would not be recognised by the Congregational Union as the pastor of the church. He withdrew his coming but the church insisted that he should take charge of the ministry. Accordingly, he left his ordinary daily work on 30 March and moved into the manse on 15 April 1928. After six months service he was finally recognised as the minister of the church by the Congregational Union. On 28 September 1928 he received a letter from the Rev Mr McAdam, Secretary of the Yorkshire Congregational Union confirming such recognition. He was a very popular man and lots of people came to hear him preach. In nine months he visited many homes resulting in an increase in the afternoon and evening congregations. A good number of young people also became associated with the chapel at this time.
Grand Reunion
The first outstanding event in Rev Hartley's pastorate was a Grand Reunion on the first Saturday and Sunday in May 1928. On the Saturday a public meeting was held in the church where addresses were delivered by Rev Mr Malkinson of Shipley, Mr Scott of Barley, a former scholar in the Sunday School, and Mr James Clark of Burnley. Mr Clark told everyone how he had preached at Martin Top Chapel for nearly forty years. His visits were undertaken when the church had no settled minister.
Mr Joseph Banks, a deacon and trustee, gave a truly spiritual address followed by Mr Thomas Ridehalgh remembering his long standing association with Martin Top Chapel. On the Sunday a very large congregation gathered in the afternoon when Rev J Loosemore of Bolton-le-Sands preached. In the evening the church was full to its utmost capacity when Mr Smith of Burnley occupied the pulpit. Mr Smith was 80 years old but preached a most powerful sermon.
The District Meeting of the Yorkshire Congregational Union
On 8 September 1928 another historic meeting took place at Martin Top Church, it was the district meeting of the Yorkshire Congregational Union. The following gentlemen took part:
Principal Griffiths Jones of Bradford United College
The Moderator of the Northern Provinces –
the Rev N J McAdam
Professor Price of the Bradford College
The Rev B C Plowright of Bradford
The Rev A Merriwether of Eccles Hill, Bradford
Mr Thomas Whitehead of Bradford – the author of "The History of the Dales Congregational Churches"
Rev Mr Booth of Saltaire Congregational Church
Mr Laver of Horton Lane Church, Bradford.
Members and friends of Martin Top Church seriously believed that meetings of this kind were a very great help to country churches.
The Church and its Officers in 1929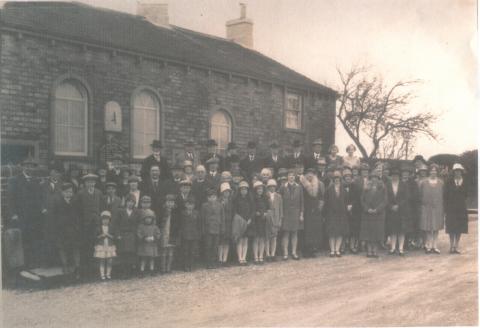 Accommodation 240
Church Members 26
Scholars 37
Teachers 7
Times of Services: 2.00 p.m. and 7.00 p.m. School 11.00 a.m. and 1.30 p.m.
Minister Rev David Hartley, the Manse
Secretary of the Church Mr George Parker, Middop Farm
Assistant Secretary Rev David Hartley, The Manse
Church Treasurer Mrs Stott, Brownlow, Twiston
Sunday School Secretary Miss Nellie Briggs, Rimington
Sunday School Superintendent Mrs Watson, Twiston
Organist Miss Ruth Watson, Twiston
Caretakers Misses Nellie and Sallie Briggs, Rimington
Trustees in 1930
Mr Joseph Banks
Mr Robert Whipp Bulcock
Mr James Stott
Mr Henry Grimshaw
Mr William Fort
Mr Robert Whipp Watson
Mr James Parker
Mr John Hardacre Dickinson
Mr Edgar Town West
Mr Edgar Town West of Barrowford became pastor in succession to Mr David Hartley of Colne. The induction service was conducted in 1933 by the Rev L J Malkinson, Chairman of the Bradford District Union and former pastor of this church. Mr George Parker, secretary of Martin Top Chapel gave a statement of the call of Mr West and Mr West gave a moving address of his call to the ministry. Following a tea in the evening a welcoming meeting was held over which Mr David Hartley presided.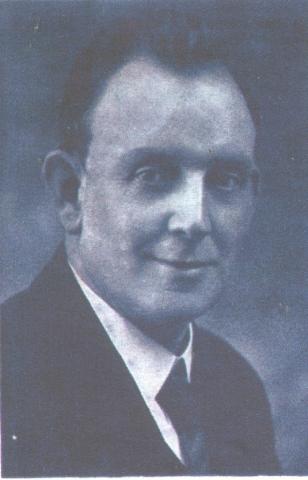 Martin Top Chapel Reunion 1934
An event of great importance was the Re-union and Coming Home Party held on Saturday and Sunday 22 and 23 September 1934. This took place through the kind generosity of Mr Thomas Ridehalgh and family of Barrowford, who kindly offered tea, and also paid for other expenses connected with the celebration. A welcome to all was extended by Mrs Stott, the treasurer, who had been associated with Martin Top Church for more than sixty years and Mr John Porter, one of the oldest members.
Amongst those who took part were:
Mr Robert Whipp Watson (organist)
Mrs Haythornthwaite (deputy)
Mr Scott of Barley
Miss Moorby of Nelson
Miss Leach of Rimington
Mr W Giddings
Mr David Hartley of Colne
Mr T Hargreaves of Burnley
Mr Jesse Blakey of Barrowford
Mr James Moorhouse of Wallasey
Alderman Thornber of Clitheroe
"Martin Top" Hymn Tune
In 1950 Mr Harold Hargreaves of Nelson wrote the hymn tune "Martin Top" and named it after Salem Congregational Chapel. Mr Hargreaves was a former well known Nelson cricketer and chairperson of the Excelsior Glee Union. He was also a piano tuner and repairer. He composed the hymn tune as a tribute to his father-in-law, Mr Edgar T West, the pastor at Martin Top Congregational Chapel. Copies were sold for three pennies.