1940-2016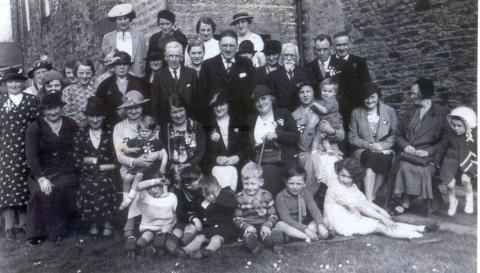 The following is the text from the new History of the Chapel written by Kathleen Scott and Herbert Moorhouse in 2016 to mark the chapel's bicentennary. Copies are available on request.
Reminiscences of Martin Top Chapel by Herbert K Moorhouse.
Martin Top in the 1940s
Mr Edgar T West became minister at Martin Top in 1933. In those days there was no electricity, no water, even in the Manse the water was carried by bucket across the road from the now New Copley Cottage (Margaret Kenyon's house). There was no telephone, very few cars (most people walked to Sunday Services). The chapel was heated by a coke stove which was sited under the pews and the upper room was heated by an open coal fire. The building was lit by acetylene gas produced in a building at the back, now one of the outside toilets, and the organ was pumped by hand.
Meeting times
Sunday School was at 1.00 p.m. There were over 30 children on the register with around 25 attending regularly and most walked to get there. There were two families, one with nine children and another with six children, which boosted the numbers.
Chapel services were at 2.00 p.m. and 7.00 p.m. There were no cups of tea and biscuits afterwards. On a fine Sunday afternoon people talked together in the chapel yard before wending their way home.
 Ladies' Bright Hour
During Mr West's time the ladies held a 'Bright Hour' on a Wednesday afternoon when they would gather together to make items of clothing from material Mr West acquired from the cotton mill. (Mr West was involved in the cotton industry before coming into the ministry). The items the ladies made were sold at the annual 'Sale of Work', the forerunner of today's 'Spring Effort'.
Concerts
There used to be a concert in the evening following these events. (What stamina they must have had in those days – but sadly these events were more social than spiritual.)
Christmas Party
A party for Sunday School children was held on Boxing Day evening with 'Father Christmas' attending giving a small present to each child.
Sunday School Prize Giving
The Sunday School Prize Giving was on a Sunday in January, but the books given were of a secular nature. I don't recall any kind of outreach or mission meetings during that period.
Yorkshire Congregational Union
Martin Top Chapel came under the umbrella of the Yorkshire Congregational Union until 1972. In the 1950s the Yorkshire Congregational Union devised the 'Yorkshire Dales Ministry' scheme. The idea was to employ a resident minister to provide oversight ministry to the chapels in the dales who were without a minister. The first minister of the scheme was the Rev George Curry who resided at Hawes some forty miles from Martin Top. When Mr West retired in 1957 we benefited from the scheme.
Electricity and Water
Electricity came into the area in 1953 and the chapel premises were connected at that time. Water was brought across the road in 1960 and the Manse was brought up to date with hot water and a bathroom being formed. In October 1963 the Methodist Chapel in Stopper Lane was recommended for closure and the building was converted into two houses.
Rev George Curry
Under Rev George Curry's oversight many services would be taken by lay preachers. On the 8 October 1961 the Harvest Festival Service was televised and the programme went out 'live' on TV. Rev George Curry led the service with a reading being taken by Mr George Parker, a gentleman with a strong faith who had served as secretary for around 50 years. When it came to the time for Mr Parker to go to the front of the chapel to read the passage of scripture he was so engrossed in the worship that he had forgotten and he had to be nudged by his wife to go forward. As this was a live programme the incident came over on the broadcast. A second reading was taken by Sunday School scholar Christine Carr (now Mrs Earl).
Rev George Curry retired in 1965 and his post was followed by Rev R H Jones. Sadly the following year he suffered two heart attacks and died from his second attack. However, under Mr Jones's oversight in 1966 a joint ministry was formed with Martin Top, Newton-in-Bowland and Horton-in-Craven under Rev John K Gardiner a newly qualified student from training college. Rev Gardiner lived in the Manse at Newton-in-Bowland.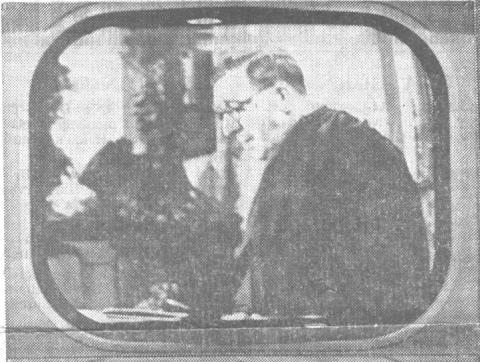 Manse Tenants
Following Mr West's retirement in 1957 the Manse at Martin Top was let to Mr and Mrs Bryon Lingard. Bryon at that time was a shoe salesman following local markets. They lived there until they converted the stable across the road into a house in 1966 (where Margaret Kenyon lives now). The next tenants were Mr Thomas and Mrs Ruth Moorhouse, my parents, who also took up the chapel caretaking duties at that time.
Rev John K Gardiner
During the Rev John K Gardiner's ministry a joint chapel magazine began, known as 'The Courier', covering Rev Gardiner's three chapels at Martin Top, Newton-in-Bowland and Horton-in-Craven and the Clitheroe and Barrow Congregational Churches. Rev John K Gardiner moved to another church in 1971 and over the next four years Martin Top Chapel relied on lay preachers.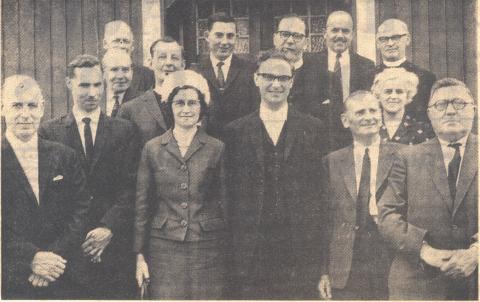 Mr John W Johnson
A shoe manufacturer from Bacup, Mr John W Johnson, moved to live in the area around about 1960. He was a Godly person who knew his workers (over 100) on a personal level and allowed them a five minute break every hour. He would take services often over this period. We owe much gratitude to Mr Johnson. In 1972 when Martin Top had to decide whether to join the United Reformed Church or to remain independent, thanks to Mr Johnson enough members voted to keep out. The United Reformed Church required a 75% vote in favour. The vote at Martin Top was 19 in favour and 7 against, which failed the 75% threshold.
Praise the Lord that we remained independent (at that time I did not appreciate what was at stake). I believe that the Lord's hand was upon that meeting and today we look back with praise and thanksgiving that we are not under the control of the United Reformed Church.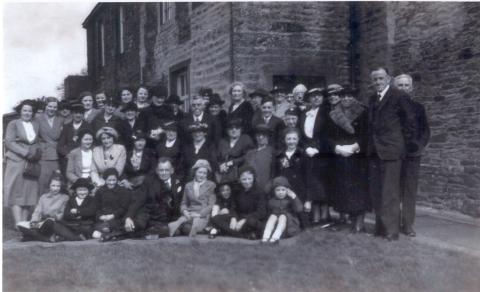 Mr Leonard Oldfield
In the late 1960s a retired Congregational minister and his wife came to live in Stopper Lane in a house that had been part of the former Methodist Chapel. Mr Oldfield took the occasional service and gave us unofficial oversight before Mr and Mrs Don Cullingford came in 1976.
Mr Bryon Lingard
In the period leading up to 1976 Mr Bryon Lingard was much involved at Martin Top Chapel but he was being called of the Lord to move to Barnoldswick and begin what was formerly 'Briercliffe Fellowship' later to become the 'Majestic Church Centre'.
Rev J Don Cullingford
Before moving Bryon had been to a conference where he had met Rev and Mrs Don Cullingford, missionaries who had returned from Papua New Guinea. They were seeking a part-time pastoral post. The outcome was that Rev Don Cullingford and his family moved to live at Martin Top. Rev Cullingford was a teacher at a school in Burnley during the years he was with us.
 Rev and Mrs Cullingford had three adopted children from other parts of the world. Together with children of church families there were quite a number of young people coming into their teenage years. Starting in 1979, Martin Top Chapel was the host chapel for the "Fun Fellowship Friendship" weekends when young people from other churches came. The boys slept in the Sunday School room (the Upper Room) and the girls in caravans or homes. These weekend get togethers continued for seven years. Here is the report from the first one.
Fun Fellowship Friendship Weekend
"We were blessed with good weather for the Fun Fellowship Friendship Weekend held at Martin Top on 24-26 August 1979. A total of 36 young people stayed with us for the weekend from Knowle Green, Harden (near Bingley), Kipping (Thornton, near Bradford) Congregational Churches and Nelson United Reformed Church plus friends from Clitheroe, Hellifield, Widdale, Hawes, Holden, Harrop and Dale Head. Also joining with us were a few local young people making about 50 taking part in the weekend.
On the Friday evening we were joined by 55 members from the Pendle Christian Fellowship and met at Great Todber Farm. The youngsters enjoyed themselves trying their skills at various side shows set up in the shippon. Later they assembled themselves in the barn where they sat on a grand stand made from bales of straw for a meeting led by Mr Bert Chambers from Morecambe. He accompanied the choruses with his accordion and gave his own testimony during the meeting. The meeting ended with a hot barbecue supper of chips and sausages.
The young people met in the Sunday School room on Saturday morning. They were split into groups to work on the theme of "What is a Christian?" Later in the morning Mr Keith Wills from Burnley gave them a challenging message. "If you were on trial for being a Christian, would there be enough evidence to convict you?" A few made a deeper commitment to faith on the Saturday morning.
In the afternoon they walked up to Great Todber for an "It's a Knockout" competition. Four teams were arranged and competed in a variety of games using barrels, planks, tyres, barrows, ladders, watering cans, buckets, etc, and of course, water!
A while after tucking into a delicious tea they re-assembled in the Sunday School room again to mime out various parables. It was during the preparation of these mimes that the Rev Robin Brookes from Radio Blackburn came for the interviews for "Church News". Later in the evening party fun was enjoyed by all. The evening ended with an epilogue by Rev Richards Cleaves of Harden.
"Christian Living" was the theme for the Sunday morning session, with Rev J D Cullingford taking the first part and he stressed the need for spiritual food which he illustrated by a coloured slide. After the break Mr Howell Jones from Clitheroe continued the theme by showing a house and the things inside we need to discard.
 At the afternoon service his theme was "Making Excuses" which fitted into the overall theme for the weekend. Afterwards a short closing meeting was held in the school room and a final challenge was given. Ten young people committed their lives to Jesus after the meeting".
Events that began in Rev Cullingford's time were entering floats from Martin Top Sunday School into the Gisburn Gala. The title of the first float was "The Sound of Music" which had over 20 participants. (See Plates 1-3) An amusing incident at the time was how a local farmer was flabbergasted when he saw a car load of nuns going through Howgill on their way to the Gala. (Plate 4 shows the Sunday School children and the young people in 1981 during Rev Cullingford's ministry).
Whilst Rev Cullingford was at Martin Top his first wife, Molly, died with cancer. He remarried a lady from New Zealand he had met in Papua New Guinea. Rev Cullingford and his new wife moved to New Zealand in 1981.
Mr Owen James and Mr Robert Pickles
The following May, the members of the chapel unanimously gave a call to Mr Owen James and Mr Robert Pickles, two young men we had come to know through contact with the Briercliffe Fellowship (Bryon Lingard's house church) which was later to become the 'Majestic Centre'. They had both been through a Birmingham Bible Institute course. At the time they both lived in Barnoldswick. Our Manse was redecorated and let as a holiday cottage over the following Summer. Later Mr and Mrs Young became tenants. Owen and Robert were inducted at the Chapel Anniversary service in 1982. They both ministered to us for eighteen months when Robert left in December 1983 for the Barnoldswick Gospel Mission, whilst Owen continued to minister to us for a further three years, leaving in December 1986. During the early part of their ministry there had been quite a number of teenage young people around but later some left to go to University.
Graveyard Extension
During 1985 an area of land was purchased to extend the graveyard as there was no more room for new burials in the old graveyard.
Joint Sunday School
During the early 1980s Rev Hugh Clark had become the Vicar of Gisburn Church. He had a wife and a family of three. Over the years a close relationship had developed between Gisburn Church and the chapel at Martin Top, with the Rev Hugh Clark taking a number of services at that time.
Rev Hugh Clark preached in June of 1988 at the afternoon service of our Sunday School Anniversary. At that time I discussed with him our concern at the lack of children coming to the chapel. Mr Clark had a similar concern for the children of Gisburn, and even though he thought that there was a need for a Sunday School at Gisburn Church there were no suitable premises for Sunday School work. He suggested that it would be possible for both Gisburn Church and Martin Top Chapel to work together using the premises at Martin Top.
Those concerned for both churches met together and made plans to start Sunday School classes. Because of the various services of both churches it did not seem possible to arrange to meet on Sunday. After much deliberation it was decided that the children's meetings should be on a Saturday afternoon between 3.00 p.m. and 4.00 p.m. Four classes were planned to commence on Saturday 5 November 1988. Fifty three children received prize books after the first year of attendance.
 Two years after Mr Owen James left us we were few in numbers and it was no longer possible to consider a part-time ministry for Martin Top Chapel. However, God had laid a concern for our situation on the hearts of four Congregational ministers from other churches in Lancashire. They were Rev Ron Witts from Bretherton, Rev David Ruddick from Settle, Rev Alan Camp from Inglewhite and Pastor Jeff Jones from Knowle Green.
Mr Peter Thomas
Also in the Autumn of 1989 Mr Peter Thomas a student from the Northern Congregational College began leading fortnightly mid-week meetings called "Learning Together". He also took a service for us once a month. From September 1989 the Sunday School met on Sunday mornings – once a month at Gisburn Church for their Family Service and the other Sundays at Martin Top Chapel. A Sunday evening 10+ Group developed and met at Martin Top at 7.00 p.m. beginning around December 1989.
 In January 1990 a party of 39 children, parents and teachers travelled to Clitheroe by coach to see a pantomime at Trinity Methodist Church. On the 15 May 1990 Rev Jonathan Lumby became the new vicar of Gisburn and in the Autumn of 1990 he decided to form their own Sunday School at Gisburn Church. This divided the children, with parents having to decide which place of worship to go to. It was a sad time for all, splitting something that had worked well.
In April or May 1991 Martin Top Chapel had been approved by the Northern College, Manchester, for Mr Peter Thomas to come for the final two years of his course for practical experience. By this time he had married and had planned to live in the Manse. Unfortunately there was a delay with the tenants moving out, resulting in the Manse not being available in time and the college not allowing them to come.
Noah's Ark
In 1991 a wooden Noah's Ark was built by one of the Sunday School children's father for a float in the Gisburn Gala May procession. In August of that year it was re-assembled at the back of the chapel for the Sunday School Anniversary. On 8 September 1991 the Sunday Service times moved from afternoon at 2.00 p.m. (except once a month at 10.45 a.m.) to all morning services at 10.45 a.m.
 During the Autumn of 1991 Miss Sarah Hacking, one of the young people in the Sunday School, wrote a pantomime called "The Poisoned Apple" and helped with its production. This involved many of the young people. The event was staged at Rimington Memorial Institute. Later in the month the young people went to Radio Lancashire to present a cheque from the proceeds for 'Children in Need'.
Pastor Jeff Jones
Pastor Jeff Jones, a part-time minister living at Knowle Green left his part-time work with the Mission to Deep Sea Fishermen to take up full-time ministry. He came to minister at Martin Top in September 1992, alongside his responsibilities at Knowle Green.
 The Manse
In 1994 the Manse had major renovation work, including having a damp course fitted and re-plastering work done. Whilst the work was ongoing a theft of items from the chapel occurred – a William and Mary chair, a piano stool, two communion table chairs, etc. The current communion table chairs are copies of the original ones.
The Northern Evangelical Trust
The Northern Evangelical Trust, or NET, as it is more commonly known, was born in the mid 1980s out of the Mission England work which was undertaken by the churches in Lancashire in conjunction with Dr Billy Graham's visit to Anfield, Liverpool. Such joint church initiatives proved to be effective in reaching the 'unchurched' and those on the fringe of the church, that leaders felt a need to continue to work together in both evangelism and mission with the vision of 'making a difference'.
NET's main resource were the young men and women who felt God's call to give at least one year of their lives to help 'make a difference' in this nation of ours, as they used NET's resources to share the Good News of Jesus. These young people were initially given a few weeks of training and then put into teams of two or three and sent out to work in a church or a group of churches for almost a year.
 In 1996 there were five teams going out, but there were ten churches who applied for a team. Martin Top together with Holden and Harrop had the vision of reaching people in the Bowland area and applied for a team to help them. We are very happy and thankful to report that a team came to the Bowland area in late September.
As part of their work they hoped to visit all the schools in the area on a regular basis, taking assemblies and religious education lessons, etc. There were five primary schools and Bowland High School and Clitheroe Royal Grammar School and Sixth Form who had shown an interest.
Towards the end of 1996 Martin Top Chapel, Holden Chapel and Harrop Chapel worked together in conjunction with NET from Oswaldtwistle to host two young people who aimed to reach young people in the Bowland area. The young people involved were Alan Leese and Liesel Whylie who went into local primary schools leading school assemblies and helping with the Whizz Kids Children's Club at Bolton-by-Bowland and the Youth Work at Harrop.
A Youth Service was held every Sunday evening moving around the chapels on a monthly basis (Horton-in-Craven Chapel being included as a family from there had come to the Joint Sunday School previously). Martin Top's slot was the fourth Sunday. In April 1997 the work of the NET team was featured in a "Songs of Praise" programme from St Mary's Parish Church in Clitheroe.
 In July 1997 NET supported the area with a nine day tent mission held on Chatburn playing fields. There were meetings each night and a children's Jungle Holiday Camp every morning during the week. Following this mission an Alpha Group began at Chatburn.
In Autumn 1997 the Bowland area was supported again by NET and the two young people who stayed were Matthew Parker and Naomi Chidgey. Another venture by the team was to start the YPHG (Young People's Home Group) for the 11+ age group, also a Children's Club in Chatburn and an October Half Term Club at the Memorial Institute in Rimington.
In January 1998 a weekly Chatburn Chatterbox Club began in Chatburn. During May to June there were three village mission weekends, one each at Rimington, Slaidburn and Bolton-by-Bowland.
Matthew Parker continued as a Youth Worker for Martin Top, Holden and Harrop in the Autumn of 1998. There was now no team from NET helping us. In August of 1999 one young person from Tosside went to join the NET team for a year to work in another team helping other churches.
A millennium torchlight procession was held in Clitheroe on 11 September 1999 and the Sunday School parents and children entered a Noah's Ark float on a local wagon driven by John Lund. The ark attracted the attention of many people with five different photographs of it appearing in the Clitheroe Advertiser and Times (see Plates 7 to 10).
Pastor Jeff Jones became unwell in June 2005 taking his last service at Martin Top on Sunday 24 July. He passed to his rest on 10 September. On 1 October a wedding had been planned at Martin Top Chapel by Jeff Jones. A close friend of Jeff, Pastor David G Isaacs was willing to conduct the marriage.
Alpha Course
At the beginning of 2006 with the help of David and Susan Tattersall of Worston an Alpha course was planned. The response to the course was amazing with over twenty people attending. This needed two groups to operate effectively. Pastor David G Isaacs (who had been a friend of Jeff Jones) was approached to see if he could help. Together with his wife Edith they agreed to come along and help. The course was fruitful with many responding to the call. Working together as a team brought the leaders into a closer relationship.
Pastor David G Isaacs
A chapel meeting held in January 2006 extended a call to Pastor David G Isaacs to part-time ministry at Martin Top. We were pleased that he accepted the call and gradually took up responsibilities and was formally welcomed into ministry at the 190th Chapel Anniversary in August 2006. David and Susan Tattersall also came into membership at Martin Top Chapel around that time.
During David Isaac's ministry several Alpha courses and Christianity Explored courses were run. There was one
Youth Alpha Course run with the help of students from Capernwray Bible College. We also had several visits of students from the College being involved in services at Martin Top Chapel on Sunday evenings.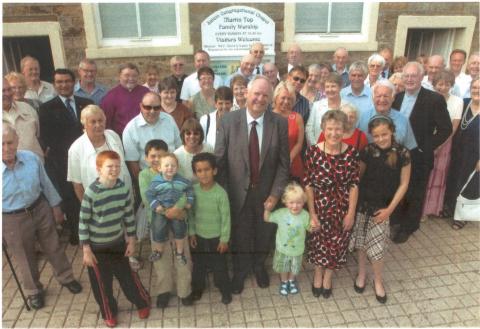 Disabled Christian Fellowship
Rev David and Edith Isaacs were instrumental in forming a branch of the 'Disabled Christian Fellowship' in September 2010. This still continues to the current time, meeting on a monthly basis on a Saturday afternoon in the Sunday School room. The current meetings are not restricted to people with disabilities and the meetings are no longer run under the umbrella of 'Through the Roof Ministries'.
Mr Alan Marsden
In June and July 2014 Rev David and Edith Isaacs took a sabbatical rest. During that period Mr Alan Marsden took up the oversight of Martin Top Chapel. In early Autumn 2014 Rev David G Isaacs announced that he would be retiring from his ministry at Martin Top Chapel on the first Sunday in April 2015.
At a chapel meeting in October 2014 a unanimous call was given to Mr Alan Marsden to the ministry at Martin Top Chapel. We are blessed that Alan accepted the call. Alan had previously worked alongside David and Susan Tattersall, who are now deacons at Martin Top Chapel, when they were members of Elim Pentecostal Church at Blackburn.
As Alan already had his own house in Barnoldswick, and our Manse at the chapel was becoming vacant, we were pleased when David and Susan Tattersall were willing to take up the occupancy, being part of the church family.
In the Summer of 1996 the following article was in the chapel magazine:
Why the Christian Faith is Different
"Recently my wife was in Gisburn school when she noticed a wall display depicting other religions. Schools are now obliged by law to teach other religions alongside the Christian faith. As Christians it is important to know the difference between our faith and that of others. In different cultures across the world mankind appears to recognise shortcomings in this life which are not acceptable to God.
In all religions except the Christian faith mankind attempts to reach God by self effort, that is, by following a set of rules or commands, observing various rituals and religious days dutifully making sacrifices and worshipping. We recognise that scripture says God already loves every body, whoever they are and whatever they may have done – no one is too bad for God. (Romans 5:8)
We are saved through God's grace; we cannot reach God by our own efforts. (Ephesians 2: 8-9) To realise that punishment for sin (our unworthiness) is death. (Romans 6: 23) It was God's purpose to allow His Son to die on the cross and that Jesus died in our place, out of love for us, taking our punishment upon Him. (1 John 4: 9-10)
As Christians we realise what God has done for us through Jesus – we receive forgiveness if we can believe. If we can grasp the truth of what God has done for us through Jesus Christ to rescue us – then we will give Him thanks and worship Him and seek to live our lives in ways that please Him. Worship is something we offer joyfully to please the Lord – not a sense of duty. (Galatians 1: 3-4 and Ephesians 1: 7-14)" In the article it states that schools were obliged to include teaching in other faiths. In the Spring magazine this year the following extract from an item printed from the 'British Churches Newspaper' was included:
Threadbare Religion
"One in four of all English parish churches now has a weekly attendance of fewer than 16 people, and for rural churches the figure is less than 10, according to a new report. And even those congregations are ageing. 40% of Britons identified as Anglicans in 1983. In 2014 the number was down to 17%."
Over recent decades our country as moved away from holding Christianity as the foundation of our lives and has accepted a multi-faith agenda which began over twenty years ago. We are now reaping the consequences with four chapels closing over the last four years within a twelve mile radius of Martin Top and others have closed over the years. As we come to celebrate our Bicentenary, we thank God for His faithfulness to us over the years, and as we look to the future we need to remember, like Peter and John (Acts 4: 12) there is no other name than Jesus by which we can be saved.
Whilst in the process of assembling the material for this book we were contacted by Mr John Tyson. His wife Mary is the last surviving daughter of Mr George Parker. Mr George Parker came to our chapel over one hundred years ago and was the chapel secretary for over fifty years. They had found in their attic the original "Annals of the Dissenting Church and Congregations called Independents Assembling in Salem Chapel Newby Hills" which contains original minutes and various lists of members. Now living at Brookhouse they came to Martin Top to present it to the chapel.
 In the book were plans for a chapel extension, but there is no reference to an extension in any of the documentation. We presume these were drawn around 1898.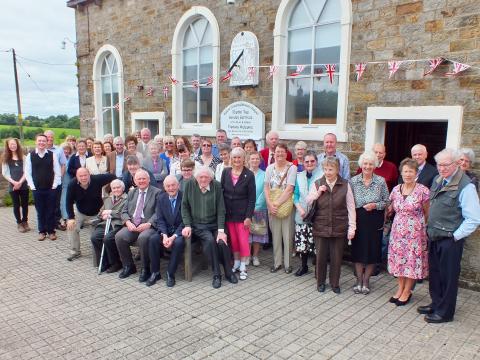 Summer, 2016.